Ibori's Appeal Fails, Must Serve Out Sentence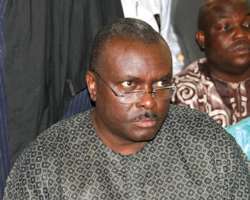 FORMER DELTA STATE GOVERNOR, CHIEF JAMES IBORI
… New Appeal Court Justices Drafted To Hear And Deliver Ruling

SAN FRANCISCO, May 02, (THEWILL) – Chief James Ibori's bid to reduce his prison sentence via an appeal at the Court of Appeal of England and Wales has failed.

Justice Anthony Pitts of the Southwark Crown Court had sentenced the former Delta State Governor to 13 years in prison after he pleaded guilty to money laundering and fraud.

Ibori's legal team had based their argument to reduce his 13-year jail term sentence on a conversation in chamber between Justice Pitts and Defence lawyers where Pitts hinted that he could hand Ibori a jail term not more than 10 years if he pleaded guilty to the charges filed against him.

Surprisingly, the Court of Appeal Justices led by a respected and no-nonsense Lord Justice Brian Henry Leveson that were earlier scheduled to hear the appeal were dramatically replaced yesterday (Wednesday) with fresh Justices that sat briefly today to hear the counsels from both sides address the court.

Lord Justice Edward-Stuart, who led Lord Justice Treacy and Peter Collier QC read today's well typed out ruling.

The Justices said Pitts' hints on a possible 10 years limit sentence for Ibori could not be relied on for a successful appeal as it was not "Emphatic Enough."

The Justices said even though Ibori's counsels had "legitimate expectations" based on Pitts' insinuations of a 10-year sentence, the Southwark Crown judge did not emphasize or commit to a 10-year jail term for Ibori if he entered a guilty plea.

Lord Justice Edward-Stuart told the counsels that there would be no need for a long trial of the appeal as the Justices had previously familiarized themselves with the grounds of the appeal and had read the submissions of both sides. After the counsels had addressed the court briefly, the judges retired for approximately 15 minutes and returned to read their verdict.

The ruling of the court brings to an end Ibori's bid to reduce the lengthy prison sentence he is presently serving. He is due for release sometime in 2016.

Ibori and his supporters have maintained that his trial and eventual sentencing is part of a political plot to persecute for his political beliefs and keep away from Nigeria during the 2015 general elections.

The former governor was convicted and for misappropriating millions of naira belonging to Delta State, where he served as Governor from 1999-2007.

He was sentenced on April 17, 2012