Bomb Blast Kills 13 In Center Of Syrian Capital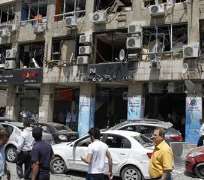 A bomb blast in the government-held center of Damascus killed 13 people on Tuesday, state television said, while rebels and loyalists to President Bashar al-Assad traded accusations over what they said was a chemical weapons attack the day before.
Residents described scenes of carnage in Marjeh Square, in a the commercial district in the heart of the capital, with dozens of cars and buildings damaged by the bomb which went off in front of the former Interior Ministry building.
"Glass was shattered around the whole block and shopkeepers were using brooms to clean up the glass in front of their shops," said one resident who declined to be named, fearing arrest for speaking to the media.
State-run Syria Television said 70 people were also wounded, several critically, in what it said was an attack by "terrorists" fighting to overthrow Assad.
Three mortar bombs landed in the government-held district of Baramkeh a few hours after the bomb, opposition activists said.
The British-based Syrian Observatory said nine civilians and five security personnel had been killed, but said the toll was likely to rise. It came a day after Prime Minister Wael al-Halki survived an attack on his convoy in the Syrian capital.
Opposition activists described similar scenes of bloodshed in the central city of Hama where they said 13 civilians were killed in heavy government bombardment.
Fighting in Syria, now entering its third year, has intensified in the last month with government forces attempting to roll back rebel advances.
Some 70,000 people have now been killed in the civil war.
Each side blamed the other for what they both said was a chemical attack in the northern city of Saraqeb on Monday.
The United States has long said it views the use of chemical weapons in Syria as a "red line", but wary of the false intelligence that was used to justify the 2003 war in Iraq, Washington has said it wants proof before taking action.
Iran, the Syrian government's main backer and self-declared enemy of the United States, echoed that line on Tuesday and said it also saw any the use of chemical weapons as a "red line".
Iranian Foreign Minister Ali Akbar Salehi did not indicate what action Tehran might take if chemical weapons use was proven, but said that the opposition was to blame.
Rebel video showed small canisters they said held a poison gas and footage of a clinic with several people lying on cots wearing oxygen masks or vomiting into trash cans.
State television carried a news flash saying the rebels had mixed a weapon with a chemical powder and used them in attacks they then blamed on Assad's forces.
It is difficult to determine what weapon might have caused widespread cases of choking and sometimes death, as a U.N. observation team trying to examine alleged sites of attacks has been stalled. Some potent mixes of tear gas can also cause severe choking, vomiting and death.
Both Assad's forces, backed by Russia and Iran, and rebels, supported by the West, have been accused of war crimes.
Reuters cannot independently verify reports as the government restricts access to journalists in Syria.
The revolt in Syria began with peaceful protests but turned violent as Assad's security forces escalated their harsh crackdown on dissent.
REUTERS