Rivers PDP Suspends 27 House Members, Gives Amaechi 48hrs To Explain Plane Seizure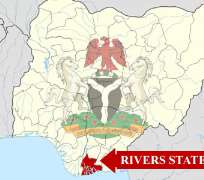 SAN FRANCISCO, April 29, (THEWILL) – The crisis in the Rivers State chapter of the Peoples Democratic Party (PDP) deepened Monday with the suspension of 27 members of the state's House of Assembly elected on the platform of the party.
The new Felix Obuah executive which does not enjoy the backing of the Rivers State Government, has also given the Governor Rotimi Chibuike Amaechi 48 hours to explain why an executive jet the state bought with tax payers money is bearing the name of a US bank in its registration documentation.
In a press briefing in Port Harcourt, Mr. Obuah blamed the suspension of the lawmakers on their refusal to reinstate the sacked Chairman of Obio Akpo Local Government Area, who was sacked by the House as the power play between President Goodluck Jonathan and Amaechi intensified following the Governor's perceived opposition to Jonathan's plot to seek reelection in 2015.
Obuah said the resolutions were reached at a meeting of the party, which was shunned by key members in government.