Meet The Mystery Lady Behind R2Bees Featuring Voicemail Track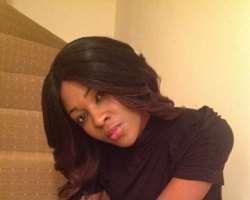 We all know that Ghana duo R2Bees have just released their latest album "Refuse to be Broke, Da Revolution II". What we did not know however is that there is a mystery woman who seems to have been the inspiration behind Mugeez's verse, particularly the line:
Me need a girl like PRIM, sexiness she b pretty like ROSE
The "Prim" spoke about in this song is a former beauty queen Primrose Mutsigiri. Who is also a celebrity publicist to International gospel singer Sonnie Badu, International footballer Obafemi Martins and Ghanaian renowned actor Van Vicker. Our sources have gathered that she also just launched a new initiative (Behind The Golden Smile Foundation) (FOLLOW ON TWITTER [email protected]) which is aimed at raising awareness about Iron Deficiency Anaemia, with a lot of celebrity support.
Miss Mutsigiri seems to have a very close relationship with the R2bees duo and we can't help but wonder if there is more to Mugeez's verse than just wanting a girl "Like Prim" or rather Paedae?? Going by the tweet below.