A female Fela with Sade thrown in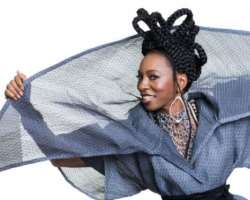 Wunmi was influenced by her uncle, Victor Olaiya, Fela and Roy Ayers. Photo: ALEXANDER
"I got my things and left" is how the novella, House of Hunger, by Zimbabwean novelist Dambudzo Marechera's kicks off. That startling opening line might well have come from the lips of England-born "Naija" singer, dancer and fashion designer, Ibiwunmi Omotayo Olufunke Felicity Olaiya ("Wunmi").
Most of her life Wunmi's had to get her things and leave. After her parents divorced, she came to Nigeria, on what was supposed to be a visit. She was only four. "I came here thinking I was on holiday, and it wasn't a holiday, it was ten years, that's a long holiday innit?"
She lived for a few years with her grandmother in Lagos. Then she moved to Ibadan to live with her father's sister, before returning to Lagos ( Living first in Ikoyi, then Surulere).
"A lot of my generation were born in England. Our parents went there to study, and obviously things happened," she explains. "They had kids, and tried to work, study, and it's not possible, so quite a lot of my generation were either sent home or were in foster care."
That separation was devastating for the little girl. Not even the occasional parental visits from England made a difference. "I felt abandoned... everyone around you has a mum and a dad, everyone talks about their mum and dad and you can only just make up stories," she recalls.
Finding the other Wunmi
And then aged fourteen, she visited England. Life was about to repeat itself. "I went back to England not knowing if I was going back to stay or it was just a visit, and there I was, I realised I was staying."
Returning to England after ten lonely years in Nigeria wasn't about to confer a happily-ever-after ending on the story. She she moved in with her father (by now there were two half-sisters from her mum) only to "realise I'm the only one amongst [the kids] who speaks Yoruba, who understands Yoruba."
So she stood out, again. "In Nigeria I was like the oyinbo one, they'd tease you and call you 'oyinbo. Now you're in the land of the oyinbo, and you're African and you're Nigerian and you sound funny and people laugh at you."
The experience forced her to "go into myself" and to "shut everything out." This meant finding within her imagination the freedom and 'identity' that eluded her external circumstances. And the way to achieve this was to dance and make her own "distinctive" clothes and create her own hairstyles. Over this even her father (who imposed a strict midnight curfew) had no control. "I lived in an imaginary world so to speak," she says.
So that there were soon two Wunmis, the one beset with "nervousness" and the alter ego, the crazy girl "who danced and dressed up" and came alive at parties. On the encouragement of her teachers, she enrolled at the London College of Fashion after high school. In College she "met like-minded people."
The three influences
There were three people who would play important roles in her transformation into a confident artist. One was her uncle, famous Highlife musician Victor Olaiya. "I lived with my grandma in the family house in Tinubu Square, and [Victor Olaiya] lived in his store at the bottom. The music that really rings in my head is [Olaiya's hit love song from the 50s]Omo Pupa."
Then there was Fela Anikulapo-Kuti, arguably the greatest influence on her music. "I had no other hero," Wunmi says. She was too young to attend his jams at the Shrine in those days, but all her older cousins did, and his music was a constant presence around her. It would prove beneficial later. "Moving back to England, that was the only connection I had. I had all the English stuff, but I had Fela, and King Sunny Ade."
"I heard things in mono and stereo. You'd be playing me a funky Western tune but I'd be hearing the African percussion playing in it... A lot of that came from listening to Fela stuff, because it was such a magical blend of the traditional with the funk."
And then, to crown it, she says everyone who listened to her music as she blossomed would refer to her as "the female Fela, with Sade."
Last but not least, was legendary American musician Roy Ayers who Wunmi finally met in 1987. "He was the biggest American artiste in England at that time in terms of the rare groove music." In the 1970s Ayers spent time in Lagos and jammed with Fela, producing a collaboration, "Music Of Many Colors", in 1980.
The first time Ayers set eyes on Wunmi, at a concert of his in London, he told her she reminded him of a certain dancer. "It was one of these magical moments where someone sees you and knows who you are," she says. He promised he was going to invite her up on stage that night. To her shock, he did, introducing her as a "special surprise" and a "special guest from Nigeria."
She didn't disappoint him. "I went out there and I danced. I was like, oh my goodness me, I've danced my whole life in my bedroom, in my living room, at school, just having fun. Here I am on a stage, a world stage, in London, Hammersmith Odeon."
Looking back she's still blown away by the meeting. "What was the chance of me meeting Roy Ayers, and the chance that Roy Ayers met Fela and worked with Fela? What was the chance of that? That of all the people I could have connected with, to inspire me, to encourage me, to mentor me, would be someone who met someone who inspired me before I left Nigeria [Fela]."
After the show, she asked Roy why he gave her chance. "It was written all over you," he told her, then added: "Listen, you've got the presence of life that no money can buy. And as long as you don't prostitute your soul, you'll do fine."
Soul II Soul
Not long after the Ayers moment, she met Soul II Soul, long before they became a Grammy winning band. They wanted her to dance for them.
With Soul II Soul she saw the world. "I saw New York for the first time, went to Los Angeles, went for the NAACP awards, everything was pouring in, it was ridiculous. I was just this Naija English girl who loved to dance and dress and be herself..."
But soon, she had to get her things and leave, again. What she was doing no longer brought her happiness. "As long as I'm happy I can dance, if I'm not happy I can't dance." Ayer's words came back to her. "Do not prostitute your soul." She left, to become a one-woman dance show, travelling around the world.
Ayers was a constant presence in her life, a surrogate father of sorts. Whenever he was performing in London he'd invite her up on stage to dance. And one day, he asked her when she'd start singing. "What I couldn't explain to him was that when I opened my mouth to sing it didn't come out sounding like an American person, it wasn't no R'nB, it was this African girl voice," she says. "Literally the music you heard on the radio was all American-sounding. Even in England our music was American, you sang with an American tone."
New York
All the while the fashion part of her life was thriving. She was stylist for Caron Wheeler, lead vocalist with Soul II Soul. And in 1992 she travelled to New York to work with the American hip-hop / R'nB group P.M. Dawn as stylist and choreographer. In New York she got a demo deal with Island Records, owned by Chris Blackwell. Island records flew Nigerian-born producer Tony Nwachukwu from England to produce the demos. Wunmi recorded three songs. "That was one of the scariest moments of my life. I'd been in the studio as a dancer, but I had never been in the studio [to record]."
Blackwell especially loved one of the songs, "Ayo for Joy", but he thought it would be a hard sell, sending Wunmi into a spiral of depression that lasted months. She thought of going back home, a prodigal daughter contrite before her father.
Ayers appeared on the scene again. He had just signed a deal with BMG in America, and he wanted her to sing on the album (Nasty). That, she says, was the official opener to her music career. She featured on two tracks in the album, which entitled her to become a member of The American Society of Composers, Authors and Publishers (ASCAP). And she toured America with Ayers.
Fela too showed up not long after, in the form of one of his songs. She overcame her diffidence and sang from the Fela album "Upside Down" one night at one of the jam sessions springing up in New York, and brought the house down. "I never looked back," she says.
And then the demos began to multiply. Her first cover of Fela ("a fusion of Upside Down and Expensive Shit"), produced by Masters At Work (the duo of "Little" Louie Vega and Kenny "Dope" Gonzales) was called "MAW Expensive (A Tribute To Fela)" and released in 1999. "Dreams still come true. I went from not knowing what would happen with the music I was doing, to finally finding a home where I can do me."
Making Waves Everywhere
In 2007, "after doing almost thirty collaborations all over the world", her debut album, A.L.A (Africans Living Abroad) was released. A remix EP titled A.L.A Revisited soon followed.
Wunmi tours extensively; and when she's not travelling splits her time between New York and London. She has presented or hosted a number of music shows for the BBC World Service Radio, one of which was a 3-part Fela documentary in 2003.
And she's only just started. Her sophomore album is due out in 2010, and when I meet her in Lagos she is preparing for the trip to Ghana, where she'll be recording.
Yesterday's girl has become today's confident woman, leaving her mark everywhere her remarkable journey takes her. "I have a band in America, and I have a band in England, and I now have a band in Ghana," she tells me. "My plan for 2010 is, wherever I go, to have a band."
She has a lot to count on. There's the irrepressible spirit of Fela, and the fatherly guidance of Roy Ayers. Not to talk of her amazing talent that has showed up in dance, fashion, teaching, and now, music. One thing is certain; The 'African Living Abroad' is set to make waves Everywhere.
Story by Tolu Ogunlesi - 234next.com