Explosives Dumped Near Police Station In Bauchi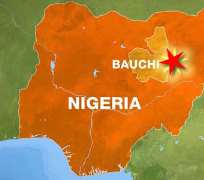 …Fake Police Officer Arrested With Indian Hemp
SAN FRANCISCO, April 23, (THEWILL) - Some items believed to be materials for making improvised explosive devices were weekend dumped near a police station along Gombe road in Bauchi metropolis.
This came as one Augustine Odogwu posing as a fake Superintendent of Police was arrested by soldiers with 108 kilogrammes of substance suspected to be Indian hemp along Bauchi - Kano road near Gadar Maiwa village.
The explosives which were neatly packed in cartons were abandoned in the densely populated area very close to the Bauchi township divisional Police station by yet-to-be-identified persons.
The Bauchi State Police Command has however removed the explosives.
Confirming the incident, the State Police Commissioner, Mohammed Ladan, said ''the materials were dumped near the Bauchi township Divisional Police station and they were concealed in a carton.
"They were in the process of being assembled into IEDs and were kept inside Turkey oil and Maltina tins but they did not complete the process. We have removed the materials and the area is safe."
Residents of the area near the popular Alkali Aminu's house said they were shocked, afraid and confused when they saw a carton containing suspected bomb that was carefully kept inside some containers with a bag containing fertilizer.
In another development, a fake Superintendent of Police has been arrested by soldiers with 108 kilogramme of substance suspected to be Indian hemp along Bauchi - Kano road near Gadar Maiwa village in Ningi Local Government Area of Bauchi State.
A reliable security source in Bauchi who confirmed the incident said the man, Augustine Odogwu, was arrested at a military road block along Ningi road with a fake identity card identifying him as a Superintendent of Police as well a police uniform with the substance inside his car.
"After the man was arrested, the first preliminary investigation confirmed that the suspect is not a policeman and he was handed over to the Nigeria Drugs Law Enforcement Agency (NDLEA) Bauchi State Command for further investigation," the source said.
Though the NDLEA Commander in Bauchi, Mr. Parah Julius Bawa, could not be reached for confirmation at the time of filing this report, a senior officer in the command confirmed that the suspect was already undergoing interrogation as he had made some confessional statements.