Reps Fail To See Yar'Adua; Ogbulafor, PDP storm Jeddah, May See President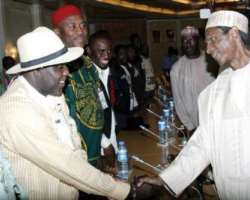 PHOTO: PRESIDENT UMARU YAR'ADUA MEETING WITH SOME MILITANTS AT THE VILLA BEFORE HIS HOSPITALIZATION.
San Francisco Feb 14, (THEWILL) – More facts have emerged on why the delegation of the House of Representatives that flew to Saudi Arabia on a 'get-well' visit to ailing president Musa Yar'Adua were not allowed access to the ailing leader.
The team had Hon. Ali Ndume, Hon. Shehu Baba Agaie (Leader of delegation), Hon. Jubril Adamu, Hon. Patrick Ikhariale and Hon. Moruf Akinderu. No explanation was given on why Hon Nenne Ukeje was mysteriously dropped from the delegation but sources close to her said she was schemed out of the journey because the leadership of the House did not trust her enough to protect the cabal's interest because of her strong views on implementing the provisions of the constitution. Agaie and his team arrived in Lagos on Saturday on an Emirates carrier after spending five days without getting a chance to see the Yar'Adua.
Information available to THEWILL showed that the team could not get access to Yar'Adua not only because of his deplorable state of health but because of Turai's failure to facilitate the necessary approval for them to even observe the ailing president face to face. President Yar'Adua is known to be struggling in his battle to remain alive after a flurry of complications from heart and kidney ailments.
The team however after unsuccessfully pressing Aminchi and the president's Aide-De-Camp, Colonel Mustapha Onoyiveta to see Yar'Adua eventually met with Hajiya Turai Yar'Adua and the president's doctors. The physicians were however unable to disclose the president's current condition because of a confidentiality agreement entered between the Kingdom, King Faisal hospital and Turai Yar'Adua.
But a source close to the president's daughters told THEWILL that the "president's life is in God's hands, there's not much anyone can do for him. The family knows that but we are all praying for a miracle," the source said.
Meanwhile, four governors who are mostly anti-Jonathan but pro-Yar'Adua have converged in Jeddah Saudi Arabia to strategize on how to handle what they see as a potential Jonathan presidency. The governors are Isa Yuguda, (Bauchi); Gabriel Suswan, (Benue); Usman Dakingari, (Kebbi); and Ibrahim Shema, (Katsina). THEWILL has not been able to independently confirm that Michael Aondoakaa, Nigeria's former controversial attorney general has surfaced in Jeddah. He was granted leave to embark to a brief holiday by the government last week.
We can however confirm that the politicians have not been granted access to the ailing president but have held series of discussions with Turai, the President's CSO, Yusuf Tilde; Aide-De-Camp, Mustapha Onoyiveta; daughter, Zainab; and Abdullah Aminchi. Though information on their discussions is still top secret, the group may have agreed to use the courts to challenge Jonathan's current acting capacity.
Also in Jeddah are PDP Chairman Prince Vincent Ogbulafor; Deputy National Chairman, Dr Haliru Bello Mohammed, and Alhaji Kawu Baraje, who is Deputy National Secretary. Our Source say they arrived on Friday and stand a better chance of seeing the ailing president because of their very high rank in the party.
Recall that they cancelled their earlier trip at the last minute a few days ago because word came from Jeddah that they may not be granted access to the ailing president.
The party stalwarts are due back sometime in the week.
|
Article source