Corruption Index: PDP Slams ACN Over Statement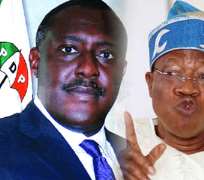 SAN FRANCISCO, April 21, (THEWILL) - The Peoples Democratic Party (PDP) has described the statement credited to the Action Congress of Nigeria (ACN), which celebrates the categorisation of Nigeria as corrupt by the United States, as misplaced.
A statement issued on Sunday by the National Publicity Secretary of the PDP, Chief Olisa Metuh, asked : "Why is the ACN gallivanting? That only the PDP is corrupt and the opposition saints? What sense is there in this naked dance in the centre of the market square."
The PDP noted that "The phenomenon of corruption predates the 14 years of the PDP but our party has taken bold steps to tackle it," adding " Whether, the ACN agrees or not, the establishment of the EFCC, ICPC and the enactment of the Freedom of Information Act are some of the firm measures in fight against
corruption."

According to the statement, "The world may know of corrupt cases in Nigeria because the PDP as the ruling Party has chosen not to condone corruption like the opposition. We have shown enough dispassion in the crusade that even some of our members found wanting had to face the full weight of the law.
"Winning the war on corruption is therefore a matter for all Nigerians to do his or her own beat. A deeper insight reveals no doubt that all corrupt persons in the civil and public services are not members of the PDP, neither are all Nigerians in their private businesses members of PDP.
"Even though it is easy to argue that as leaders all bucks stops on our table, it is at the same time needful to appreciate that all Nigerians must pull through his or her own beat. The PDP shall continue the fight until the chaff of corruption is winnowed into the fire."
The statement further said the ACN is the least that should point an accusing finger alleging that its leader is one of the most corrupt Nigerians of the living memory.
"See who is pointing an accusing finger with all the sleaze going on in the states under the ACN; with the commonwealth of entire six states privatised to please the emperor at Bourdillon," the statement said.