Imasuen reacts to Akiyesi's botched wedding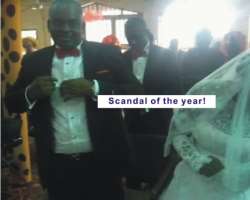 WORRIED by the reports making the round that some of his colleagues who might have had foreknowledge prior to his marriage were present at the occasion, Lancelot Imasuen, who was visible at the wedding of Solomon Akiyesi, has said that he does not even know the actor that much.

"It is the bride I know because she attends my church and I was invited to the wedding just like every other person. Na God go punish all of them. Nigerians have this pull-him-down mentality. Am I his guardian that will tell him what to do or what not to do? If people are not stupid, why would they say I was privy to the whole saga?" he asks.

Posed with the question of whether it is possible that the wife will be pregnant for eight months without her husband knowing, Imasuen fired back: "Is Solomon a child? This is a fully grown man and I have stated before, I don't even know him that much."

It was a chaotic situation on Saturday, April 13, 2013, when Lilian Akiyesi, wife of Nollywood actor, Solomon Akiyesi, stormed Overcomers World Outreach located at Overcomers Close, Aguda, venue of the secret wedding of her husband to Uloma Agwu, a member of the church.

Solomon was alleged to have dumped his pregnant wife, Lilian Akiyesi, in their Port Harcourt home on the pretext of coming to Lagos for a movie shoot. Unfortunately for him, his wife got wind of his plan to marry an alleged pregnant lover in Lagos. In an unruly manner, she stormed Lagos ahead of the wedding and zoomed to the wedding venue with some policemen and some of her relatives before the pastor could join the new lovers together as husband and wife.