My baby is more beautiful than yours! [PHOTOS]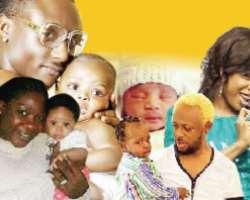 Nigerian artistes posting pictures of their babies on the social media may have started a new fad of baby fairs, writes CHUX OHAI

More than ever before, Nigeria' star artistes have imbibed the habit of posting photographs of their loved ones on the Internet. In the last few months, quite a number of them have had to announce the arrival of a new baby to their fans and friends through the social media.

Unable to hold back their joy, they would tweet short messages that clearly convey their excitement to the reader and post pictures taken with the newly arrived 'bundle of joy' via Instagram and other platforms.

Popular artistes, whose babies' pictures have appeared on the Internet in recent times, include Mercy Johnson, Timaya, El-Dee, Terry G, Tony Tetuila and Kaffy.

Although it is not clear if these artistes were merely showing off or genuinely expressing their happiness, this is fast becoming a fad and bloggers seem to be in a hurry to relay the messages and the pictures to the public.