Jonathan Seeks Total Transformation Of Civil Service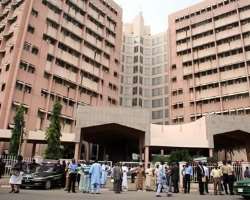 SAN FRANCISCO, April 17, (THEWILL) – President Goodluck Jonathan has called for a total transformation of the country's civil service in line with the transformation agenda of his administration.
He has therefore charged the Federal Civil Service Commission (FCSC) and the Office of the Head of Civil Service of the Federation (HCSF) to collaborate in designing a qualitative progression assessment measures to curb the high level of incompetence and disproportionate representation of States in the civil service.
Giving the charge on Wednesday at the swearing-in ceremony of four newly-appointed members of the FCSC at the Presidential Villa, Abuja, President Jonathan faulted the use of promotion examinations as a pre-requisite for career advancement, saying it encourages favouritism, nepotism and corrupt practices.
According to Jonathan, ``The Federal Civil Service Commission and the Office of the Head of Service must have a feedback mechanism to bring quality into the service.
``Over the period, it appears as if when compared to the private sector where for you to climb up you must be good. In the civil service both at the State and federal levels people just climb up without proper assessment,
``Of course at the federal level, they write exams but one thing is that one could pass exams but another thing is to do what is right especially on issues bordering on corrupt practices and nepotism, these are things that assessment by examination cannot reveal.''
The President said the Presidency has been receiving petitions against nominees for the position of permanent secretaries that cast doubts on the competence of selected officers, thus charging the agencies concerned to ensure quality in the recruitment of public servants.
Citing the 1999 Constitution which prescribes that every State must have at least one permanent secretary in the public service, Jonathan said this provision has made such appointment difficult.
``In some States you may have up to seven Directors competing for one position; so you now select one out of seven. In some States, you have just one person competing for one position, so it is almost automatic.
``That means that in terms of getting people into the federal civil service, probably the representation is not very fair and of course we also know that all the States are not equal numerically.
``You have to ensure that all the States are fairly represented especially when you are getting to the management position of Assistant Director and above," he said.
The new members sworn in at the occasion include Ngozi Agatha Etoue from Anambra State, representing, Anambra, Ebonyi and Enugu States; Hope Odhulum Ikiriko from Rivers State, representing Rivers, Bayelsa and Delta States; Aminu Diyo Sheidu from Kogi State, representing Kogi and Kwara States and Emmanuel Chimezie Ihedioha from Abia State, representing Imo and Abia States.