Wall Street Slumps In Broad Decline On Oil, Weak Earnings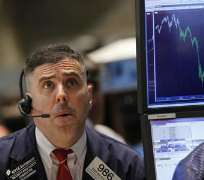 U.S. stocks dropped 1 percent in a broad decline on Wednesday, with materials and energy shares leading the way lower as commodity prices dropped, while a selloff in technology stocks pressured the Nasdaq index.
All but three of the S&P 500's 10 major sectors dropped more than 1 percent. About four-fifths of stocks traded on the New York Stock Exchange and Nasdaq were lower.
The CBOE Volatility index .VIX, a measure of investor anxiety, soared 28 percent, though action on the VIX was also influenced by the expiration of April futures contracts.
Mining and other materials companies .SPSMCM sunk 2.4 percent while energy companies .SPNY were off 2.3 percent as U.S. crude futures dropped 2 percent to $86.99 a barrel. Brent crude is on pace for its sixth straight decline.
Financial stocks fell after Bank of America Corp (BAC.N) posted a drop in revenue and profits that were below Wall Street expectations. Shares of the Dow component slumped 4.9 percent to $11.68.
"Banks are clearly struggling," said Jim McDonald, chief investment strategist at Chicago-based Northern Trust Global Investments, which has $760 billion in assets. "Loan growth has been disappointing, which points to economic growth not being robust."
The Dow Jones industrial average .DJI was down 154.82 points, or 1.05 percent, at 14,601.96. The Standard & Poor's 500 Index .SPX was down 23.68 points, or 1.50 percent, at 1,550.89. The Nasdaq Composite Index .IXIC was down 60.15 points, or 1.84 percent, at 3,204.48.
The S&P information technology sector .SPLRCT fell 2.1 percent as Apple Inc (AAPL.O) slumped 4.5 percent to $406.61 and Texas Instruments (TXN.O) shed 4.6 percent to $34.10.
Intel Corp (INTC.O) slipped 0.8 percent to $21.74 after the chipmaker said its current-quarter revenue would decline as much as 8 percent and it trimmed its 2013 capital spending plans.
Oil prices dropped on the prospect of sluggish fuel demand in the United States and China, a sign that economic growth was weak. Crude is down about 10 percent so far this year. Among the most active energy companies, Valero Energy (VLO.N) dropped 4.7 percent to $37.77 while Halliburton Co (HAL.N) was off 4.5 percent to $37.92.
Markets have been volatile this week, with the S&P moving more than 1 percent in each session, putting the VIX on track for its biggest weekly jump since May 2010. While the index is down 2.6 percent on the week, it posted its second-best daily performance of the year on Tuesday.
Yahoo Inc (YHOO.O) fell 0.5 percent to $23.66 after the Internet company reported first-quarter revenue that missed expectations, though many analysts raised their price targets on the stock.
Textron Inc (TXT.N) was the biggest percentage decliner on the S&P 500, shedding 12.4 percent to $25.70 after cutting its full-year profit outlook on a decline in sales to the military.
On the upside, Mattel Inc (MAT.O) rose 3.9 percent to $44.67 as the S&P's biggest gainer after the company reported earnings that topped forecasts, helped by cost controls.
With 9 percent of the S&P 500 having reported, 67 percent have beaten earnings expectations, even with the average over the past four quarters, but above the average of 63 percent since 1994.
S&P 500 earnings are now expected to have risen 1.7 percent in the first quarter, based on actual results from 42 companies and estimates for the rest, according to Thomson Reuters data. That expectation is up from a previous estimate of 1.5 percent growth at the start of the month. At the start of the year analysts saw earnings growing 4.3 percent.
Other S&P 500 companies expected to report on Wednesday include American Express Co (AXP.N), eBay Inc (EBAY.O) and Sandisk Corp (SNDK.O).
The Federal Reserve is expected to release its Beige Book describing economic conditions at 2 p.m. (1600 GMT).
REUTERS