N18m Land Scam: EFCC Calls First Witness As Trial Of Abubakar Audu's Son Commences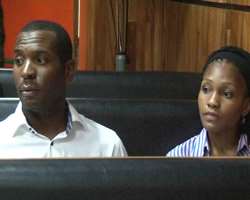 MUSTAPHA AUDU AND HIS WIFE ZARA AUDU IN COURT
SAN FRANCISCO, April 15, (THEWILL) - The trial of Mustapha Audu, son of former governor of Kogi State, Abubakar Audu and his wife Zara Audu commenced Monday before Justice Abubakar Sadiq Umar of the High Court of the Federal Capital, Territory, Abuja.
Mustapha, his wife and their company, Constructor Guild Limited are being prosecuted by the Economic and Financial Crimes Commission for their alleged role in a N18 million land scam.
They were alleged to have falsely obtained the sum from one Nike Kolawole under the pretext that they will get her a four- bedroom house at Katampe Extension, Abuja; and another property at Camelyn Estate, Idu Sabo, Federal Capital Territory, Abuja. When they were first arraigned on February 26, 2013 they pleaded not guilty to the 3-count charge preferred against them by the anti-graft agency.
At the resumed hearing, key prosecution witness Nike Kolawole, while being led in evidence stated how the accused persons persuaded her sign an agreement to develop properties for her in Abuja but failed to deliver.
According to her, she met the second accused, Zara Audu whom she confided in, that she was interested in buying properties in Abuja but will prefer an arrangement that allows for payment by installment as she would be unable to mobilize all the funds at once for the type of properties which she desired.
When a proposal was presented to her for a four bedroom bungalow to be built at a yet to be procured land at Camelyn Estate, Idu Sabo and another property at Katampe Extension both in Abuja, Kolawole said she signed the agreement, convinced by the pedigree of the developers as evidenced by photographs of commissioned houses developed by their company in Lagos and the lands acquired by them in Abuja which were shown to her by the accused persons.
She stated that two separate agreements were drafted on the 6th of June, 2011 in which she agreed to pay a total of N53million for both houses. She said she immediately paid the sum of N3 million as commitment fee and subsequently paid N10million and N5million respectively for the take off of both projects.
But in December 20, 2011, Kolawole informed the second accused that she was no longer interested in the properties since no moves were made to construct the houses and therefore asked for a refund. The accused persons promised in writing to refund her by March, 2012; a promise they never kept.
Following Kolawole's testimony, defence counsel, Okechukwu Ajunwa asked for a short date to enable him cross examine the witness.
The case has been adjourned to May 21-22, 2013.