Seven Persons Killed As JTF Battles Boko Haram In Kano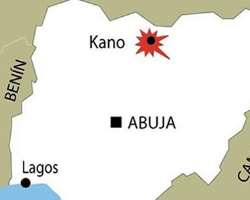 SAN FRANCISCO, April 12, (THEWILL) - No fewer than seven persons, including a soldier, were killed, Friday, in Kano as the Joint Task Force (JTF) battled suspected Boko Haram members in a shoot-out at Sheka quarters in the city .
While the Boko Haram insurgents lost six of their members in the gun battle which took place in a building being used by the insurgents, JTF lost a soldier said to be from the 3rd Brigade of the Nigerian Army, Kano.
Other persons who sustained injuries during the confrontation were said to have been taken to the hospital.
Confirming the incident, JTF spokesman, Capt. Ikedichi Iweha, said the building that harboured the Boko Haram members had been demolished and some dangerous weapons recovered.
He disclosed that the operation was carried out about 4.30am after some arrests made by the JTF in the Mariri quarters led to the discovery of the hideout of the sect.
The JTF spokesman said five women, believed to be wives of the sect members and three toddlers were rescued during the operation.
"We engaged the terrorists in a gun duel which lasted for some hours. On our arrival at the house, they immediately opened fire, but our superior fire power subdued them, which resulted in killing of their six members while a soldier later died of gun wounds in the hospital. We were able to rescue five women and three toddlers of which none of them was hurt during the raid,"Iweha said.
He listed items recovered during the raid to include two AK47 riffles, 150 ammunitions, some explosives and five magazines.
It would be recalled that on Easter day in Kano, a soldier and 14 other Boko Haram members were killed in a similar JTF – Boko Haram gun battle. Fourteen AK47 riffles were also recovered as the sect's building was burnt and their explosives seized.