Bamanga Tukur Congratulates Amaechi On Vanguard 2012 Award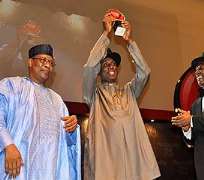 SAN FRANCISCO, April 10, (THEWILL) The National Chairman of the Peoples Democratic Party (PDP), Alhaji Bamanga Tukur has expressed delight on the Award; Vanguarad Man of the Year 2012, bagged last Saturday by the Chairman of Nigerian's Governors Forum, Rt. Honourable Chibuike Rotimi Amaechi in Lagos, describing it as inspiring.
Tukur who just returned from London where he spent his Easter Holiday said he was particularly happy that the prestigious Award went to a PDP governor, more so as many governors of the party, according to him, had carted away nearly all Awards reserved for highly effective, performing and dependable political office holders by appreciative corporate organisations both within and outside Nigeria.
He said the PDP and indeed, President Goodluck Jonathan have always been pleased with high performances on the path of public office holders, stating that the impact of the ruling party could better be felt when its elected officials continue to showcase great achievements that touch the lives of every Nigerian.
Tukur in a statement he personally signed said the Award just bagged by Amaechi was not a fluke, the governor, having earlier been appreciated by reputable media organisations such as Thisday Newspapers, Independent Newspapers, The Leadership and others.
He noted that the achievements and stewardship of Amaechi in Rivers state have been quite phenomenal.
The PDP National Chairman said he had at one point or the other verified the stewardship of the Rivers State governor with personal visit to the state, stressing that Amaechi had excelled in the provision of sound Education, Health services, Infrastructural development, Urban Renewal projects, good welfare packages for workers in the state, among others.
He said, "I call Amaechi my son and he has been acting as my son, so I am proud of the Award given to him by the Management of the Vanguard Newspapers. He deserves the Award because I had personally verified most of the achievements credited to him. When you enter Port Harcourt, Amaechi's hands are quite visible.
"My son had revolutionised Education and health delivery services in River State. He has been turning around the entire state with Urban Renewal Projects. I don't get to know that workers in Rivers State were picking quarrels with him while he has been level headed, focussed, hard working and always very eager to make the difference.
"I use this medium to congratulate Amaechi who I very well know would be spurred to do more by this Award as a leader and as a faithful PDP Ambassador. I also congratulate other PDP governors who had won similar Awards in the past since they have been making us proud at the National Headquarters".
"For me, I preferred that we use evidence of performances by our governors, ministers and other public office holders in form of the Award Just bagged by Amaechi as a tool for engaging and silencing the opposition who continue to grope in the gross illusion of edging the PDP out of power in 2015.
Tukur said he was certain as the National Chairman that President Goodluck Jonathan would commission more award winning projects in many of the PDP states between now and 2015, as he threw a challenge to the opposition parties to ensure same with their state governors in the interest of progress and development of Nigeria
The National Chairman, however urged all PDP governors and other public office holders on its platform to double their strength in delivering the dividends of democracy to the ordinary Nigerians, noting that integrity and performance, more than anything, would be the yardstick for determining who would get the ticket of the party for elective offices in 2015.