20 Killed In Road Accident As Driver Speeds To Beat Potiskum's Curfew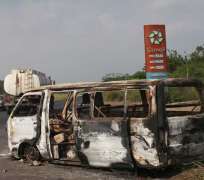 20 people have been confirmed dead in a road accident in Yobe state North-East Nigeria.
The sector commander of the Federal Road Safety Commission (FRSC) in Yobe, Shehu Umar who confirmed the incident to Channels Television in Damaturu said the accident occurred on Monday at Dazigau village some seven kilometres to Potiskum, the commercial nerve centre of the state.
Mr Umar said the accident involved an 18 seated bus which was conveying 20 people from Kano and was speeding to beat the 6pm curfew in Potiskum when it rammed into a truck of a construction company killing all the passengers and the driver along the Kano-Maiduguri highway.
He said due to the security challenges in Potiskum, the FRSC in the state has been forced to suspend operation in the area and could not offer rescue operations.
"Although we do not have all the details but accidents along this road has always been caused by over speeding and reckless driving as they are always in a rush to beat the 6pm curfew in Potiskum town"
Sequel to the suspension of operations by the FRSC along the busy Kano-Maiduguri federal highway, accident victims are often left at the mercy of good Samaritans whose assistants are mostly too late to salvage any life.
Monday's accident is coming barely three months when an over speeding bus crashed into a truck parked along the road at almost the same location killing 16 of the 18 passengers on board in a bid to beat the curfew time in Potiskum.
CHANNELS TV