Tambuwal Seeks Proper Funding For Anti-Graft Agencies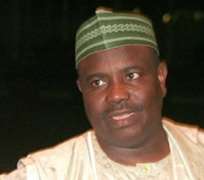 SAN FRANCISCO, April 08, (THEWILL) – The Speaker of the House of Representatives, Alhaji Aminu Tambuwal, has called on the Federal Government to provide adequate funding for anti-graft agencies in the country.
He said this becomes necessary to enable the agencies perform their roles well in order to achieve the anti-corruption goals of the government.
Speaking on Monday at the opening of a two-day national conference on Corruption and National Security in Nigeria organised by the Institute for Anti-Corruption Studies of the University of Abuja, Tambuwal also called urged the National Assembly to do something about the funding of anti-graft agencies.
He however expressed displeasure over the view by the executive arm of government that the legislators 'padded' the 2013 budget in pursuant of their own selfish interests.
The speaker who observed that the problem of corruption in Nigeria had been giving leaders and the led sleepless nights for decades, said government should give proper incentives for the training and re-training of security operatives and anti-corruption staff to enable them combat terrorism.
He however called for a holistic approach to solving problem of corruption, saying schools for Corruption Studies be established and re-orientation of the citizens be intensified .
The speaker also stressed the need for a total overhaul of the existing legal framework, which makes it difficult to prosecute people accused of corruption.
The National Security Adviser (NSA), Col. Sambo Dasuki (rtd), who also spoke at the occasion, corroborated the Speaker, saying corruption is an all-encompassing menace that affects different aspect of the nation's growth and development.
"Corruption has a direct impact on good governance and where the latter is lacking, national security problems abound," he said. He maintained that this leads to tension in the polity and the society as well as social upheavals with attendant violence and demonstrations.
Dasuki, who was represented by an official in his office, challenged the conference to ensure that its findings are communicated to the appropriate audience.
He added that "the outcome of this conference, if properly communicated, is capable of guiding some national security decisions and also help shape some government policies which may be for the betterment of the citizenry."