S'West Group Slams ACN, Says Party Is Anti-Yoruba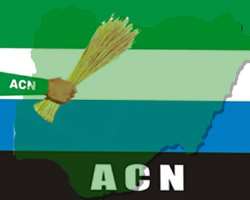 SAN FRANCISCO, April 08, (THEWILL) – The Action Congress of Nigeria (ACN) has been described as a party peopled by selfish and haters of the Yoruba race.
A political pressure group, South West Defenders (SWD), which gave the damning description of the party on Monday, said "Time has come for the Yoruba people to free themselves from the bondage of deceit and selfishness, which the party represents."
It also advised the Yoruba people to begin to think now.
Reacting to the allegation by ACN National Publicity Secretary, Alhaji Lai Mohammed, that the factional leader of the Oodua People's Congress (OPC), Dr. Frederick Fasehun, was paid by President Goodluck Jonathan to destablise the South-West, the group maintained that "Such statement can only come from an avowed enemy of the Yoruba people like Lai Mohammed and his ACN."
SWD, in a statement signed by its National Publicity Secretary, Mr. Lere Olayinka, said even if it was true that the Fasehun-led OPC was awarded pipelines contract as alleged, won't such contract be beneficial to unemployed Yoruba youths?
The group also asked some key questions. "The question we wish to ask is; why is it that these people in the ACN always oppose anything that will bring succour to our people the moment it is not coming through them?
"Members of OPC are Yoruba people and if the Dr. Fasehun's faction of the group is awarded such a contract, won't that be creating employment for thousands of our employed youths?
"Are these selfish characters saying that Yoruba had no right to get their own fair share of what other ethnic groups in the country are benefiting as citizens of Nigeria?
"How does any award of contract for pipeline protection amount to instigating crisis in the South-West because of 2015 elections?
"The same way these people have been working to scuttle the Subsidy Reinvestment Programme (SURE-P) Community Services, Youths and Women Employment Scheme, under which thousands of our youths are being employed even when States under the control of their party are frittering away their own share of the subsidy fund.
"That was also the same way they sold the position of Speaker of the House of Representatives that was zoned to the South-West to the North-West that already had the Vice-President just because their selfish leader never wanted any other Yoruba person to be influential in the present political dispensation.
"Does it now imply that anything that is not from the ACN must be destroyed no matter how beneficial they are to the people?
"And we ask too, should everything about our existence as a race be seen solely on the basis of 2015 elections and the promotion of the political expansionist agenda of this selfish political merchant and his party?," the group asked rhetorically, adding "This is the time for us, the Yoruba people, to begin to think."