Mark, ACN, Atiku, Ajimobi, Uduaghan, Abdullahi, Daramola Condole With Ekiti Government Over Olayinka's Death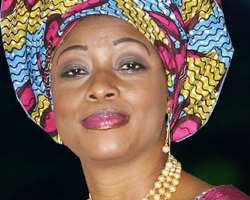 LATE EKITI STATE DEPUTY GOVERNOR, MRS FUNMI OLAYINKA
SAN FRANCISCO, April 07, (THEWILL) – Prominent Nigerians have continued to react to the death of the Ekiti State deputy governor, Mrs Funmi Olayinka, who passed away on Saturday in a Lagos hospital at 52.
President of the Senate, Senator David Mark, while lamenting the death of the deputy governor of Ekiti State, Mrs. Funmi Olayinka, said her death was a huge loss to the nation.
Senator Mark in a condolence message to the government and people of Ekiti State described late Olayinka as an indomitable amazon who stood to be counted when it mattered.
" At a time when it was a herculean task for women to aspire into elective office, Mrs. Olayinka was among the few Nigerian women who ventured into politics.
"She was a very determined person who had a dream and mission. She proved her mettle and indeed contributed immensely to the building of new Ekiti State.
"We shall miss her resourcefulness and robust contributions. We shall miss her passion for women and youth development agenda".
Senator Mark however told the bereaved family, the government and people of Ekiti State to take solace in the fact that late Olayinka lived an eventful and truly accomplished life worthy of emulation.
He also requested the Ekiti state government to do well by immortalising late Olayinka in recognition of her contribution to the development of the state.

This came as the Action Congress of Nigeria (ACN) in Oyo State, in a statement issued in Ibadan on Sunday by its Publicity Secretary, Hon. Dauda Kolawole, described the late Olayinka as a blessing to mankind, a humble personality and an epitome of loyalty, adding that she stood firmly by her boss, Fayemi, to give good governance to the people of the state. According to the state party Chairman, Chief Akin Oke, the South-West zone is passing through a period of difficult moment with the death of its illustrious sons and daughters whose services were still required for the development of the zone. "While we are still grappling with the passing away of Chief Bayo Akinnola, Apostle Timothy Oluwole Obadare and Chief Oluwole Awolowo, death came calling again and took away Mrs. Olayinka and Okere of Saki, Oba Kelani, in their prime," the ACN chief said.

On his part, former Vice-President Atiku Abubakar in a statement from his media office in Abuja, Sunday, said Olayinka's death at such a time when Ekiti State needed her services the most is most unfortunate. While calling on Governor Kayode Fayemi to accept the death of his deputy governor as an act of God, the Turaki Adamawa said "the death of the Ekiti State deputy governor is not only a loss to Ekiti State, but to Nigeria because she was a faithful and committed compatriot."
Governor Emmanuel Uduaghan of Delta State, in a statement by his press secretary, Felix Ofou, described the late deputy governor as a calm, gentle easy going person, who identified and keyed into the projects of Governor Fayemi for Ekiti State. He particularly praised the woman for dumping a lucrative banking job to join Fayemi as deputy and waiting patiently for the courts to declare them victorious at the polls. Udughan also praised the courage and strength of the late deputy governor in the battle against cancer, saying she worked tirelessly to please everyone until a few weeks ago when it was announced that she was proceeding on medical leave. "Not once did she betray signs of being sick. May be a few persons were aware of her health status. All we saw was a courageous and strong woman willing to please everyone," Uduaghan noted.
Governor Abiola Ajimobi of Oyo State, in a statement issued in Ibadan on Sunday by his Special Adviser on Media, Dr. Festus Adedayo, described the demise of the Ekiti State deputy governor as unfortunate, disheartening and sad. Ajimobi, who said he received Olayinka's death with rude shock, expressed the regret that the deputy governor was snatched away by the cold hands of death at a time when her wealth of experience was most needed to complement Fayemi's efforts at transforming Ekiti State. ``It is quite unfortunate and regrettable that we lost Mrs. Olayinka at this time. She was not only gentle, unassuming and articulate, she was also a seasoned banker and an administrator par excellence and a progressive-minded personality. The late Mrs. Olayinka would be remembered for her unflinching loyalty to, and cooperation with, her boss; a feat which has assisted in the building of Ekiti State to its present enviable status by the Fayemi administration,'' Ajimobi said.
The governor added that ``As painful and untimely as her death is, we, however, take solace in the fact that she lived a selfless, fulfilled and Godly life, a life of service to humanity. Therefore, her passage should be celebrated rather than mourned.''
Minister of Sports and chairman of the National Sports Commission (NSC), Mallam Bolaji Abdullahi, in a letter of condolence to the Government of Ekiti State, said the late Olayinka was a loyal and committed partner of the Ekiti governor for the betterment of the state. "In my few interactions with her, she came across as a pleasant and lovely woman who was dedicated to the cause of her people. She was brave and often brimming with ideas on achieving the developmental objectives of her state. It is common knowledge that as deputy governor she had a good working relationship with her boss and contributed in no small ways to the growth and development of Ekiti. It is saddening that death came calling at this time before she could achieve all her dreams. I wish the Government of Ekiti State and especially her family the fortitude to bear this great loss," Abdullahi said.
Meanwhile , the deputy chairman, House Committee on Millennium Development Goals (MDGs), Hon Bimbo Daramola, representing Ekiti North Federal Constituency 1, in a statement said : "Today I am painfully sored. As I write this with grieving heart and from a broken heart on the passage to eternity of my dear sis, our own elegant stallion,heroine of repute, all of these epaulets and more well earned and deserved all through her sojourn on this side of the great divide.
"The grim reaper has done its worst, leaving in its trail tears, wailings and grief! A devasted Governor, First lady,husband , children, parents, siblings and tens of thousands of political associates, friends and family.
"As the flag of our state fly at half mast today signposting the demise of our deputy governor,sis mi as i used to call her most admirably and affectionately and she will reply "broda mi", I have cause to revisit our time together through the struggle for the soul of Ekiti, she bore the struggle stoically and God rewarded her, us and Ekiti with victory after three and a half years, it was this that reinforced my strident defence when her death was first rumoured gleefully by politicians, but it never turned out so, we lost this battle, but Jehova knows best. Sis mi, Ma Yeside, Adunni, the story of the rebirth of Ekiti will be incomplete without you, on this we have won, death shame unto you.
"Your task is over, the labourer is free from the earthly toils. Odigba. beauty and brain."