Ajimobi, Oyo ACN Mourn Okere Of Saki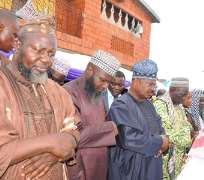 SAN FRANCISCO, April 07, (THEWILL) – Governor Abiola Ajimobi of Oyo State and the state chapter of the Action Congress of Nigeria (ACN) have commiserated with the people of Saki over the death of their monarch, Okere of Saki, Oba Olatoyese Kelani, Olarinre II, who joined his ancestors on Friday.
The Action Congress of Nigeria (ACN) in Oyo State, in a statement issued in Ibadan on Sunday by its Publicity Secretary, Hon. Dauda Kolawole, noted that the state party Chairman, Chief Akin Oke, is passing through a period of difficult moment with the death of its illustrious sons and daughters whose services were still required for the development of the zone. "While we are still grappling with the passing away of Chief Bayo Akinnola, Apostle Timothy Oluwole Obadare and Chief Oluwole Awolowo, death came calling again and took away Mrs. Olayinka and Okere of Saki, Oba Kelani, in their prime," the ACN chief said.
ACN also commiserated with Governor Ajimobi and the people of Saki over the passage of the monarch whom it described as one of the foremost traditional rulers in the state whose immense contributions had helped the ACN-led government a great deal in delivering democracy dividends not only to the people of Saki but the entire citizenry in the state.
The message came as the governor called on the people of Saki to continue to maintain the legacy of peace left behind by the late monarch as he noted that the contributions of Oba Olarinre to the sustenance of peace and development of Saki land and indeed, the entire state could not be quantified.
Speaking during the burial rites of the traditional ruler , Ajimobi enjoined the kingmakers to ensure that the selection of another Okere did not lead to any crisis in the town.
Earlier in his sermon, an Islamic Cleric, Alhaji Kabir Olohunlase, called on people in position of authority to use their influence to better the lives of the masses.
His Christian counterpart, Rev. Bamgbala Adika, said the reign of Oba Olarinre had brought peace and development to Saki town, stressing that the long time rift between Saki and Oyo town was amicably settled during the reign of Oba Olarinre.
Governor Ajimobi later participated in the final prayers for the late monarch before his remains were lowered into the grave.