'Do Something For Boko Haram', Turai Begs Jonathan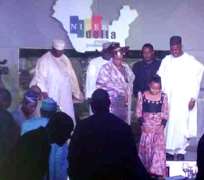 … Tells President 'My Husband Did Amnesty For Niger Delta Militants.'
LAGOS, April 05, (THEWILL) – Widow of late President Umaru Yar'Adua and former First Lady, Hajiya Turai Yar'Adua has added her voice to the calls for amnesty and pardon for members of the radical terrorist group Boko Haram.
Turai, who was honoured alongside the deceased President at the Niger Delta Young Professionals (NDYP) awards ceremony at the Eko Hotel Lagos on Friday night, appealed to President Goodluck Jonathan to "look into the Boko Haram situation in the north and do something about it because it is not only northerners that are suffering… "
During a brief acceptance speech at the event, the former First Lady reminded President Jonathan who she referred to as her brother that President Yar'Adua gave amnesty to agitated militants in the Niger Delta who were up in arms against the federal government for a better deal for oil producing areas.
President Jonathan hails from Bayelsa, one of the states in the oil rich Niger Delta and hotbed of militancy in the region.
She also charged the President to tackle poverty and other problems facing the north.
President Jonathan did not attend the event but sent a representative.
Another recipient of the Niger Delta Young Professionals award was the Akwa Ibom State Governor and Chairman of the PDP Governors' Forum, Chief Godswill Akpabio.
Within the last two weeks, several prominent Nigerians and groups from the north including the Sultan of Sokoto have asked President Jonathan to pardon members of the Boko Haram, a terrorist group that abhors western education and has coordinated dozens of deadly attacks in the north with a vow to Islamize northern Nigeria.
The President Thursday approved the constitution of a committee to study and advise the federal government on the issue of amnesty for the group.
The terms of reference for the committee according to Presidential villa sources are as follows:
i. to consider the feasibility or otherwise of granting pardon to the Boko Haram adherents.


ii. Collate clamours arising from different interest groups who want the apex government to administer clemency on members of the religious sect; and 


iii. To recommend modalities for the granting of pardon, should such step become the logical one to take under the prevailing circumstance.