I am not married, marriage certificate is fake – John Dumelo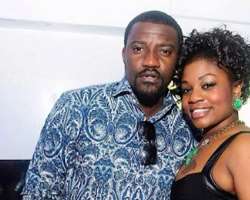 Ghanaian actor John Dumelo has denied media reports that he has secretly married in the United States.
There were reports that the actor, in spite of declaring publicly that he is single, is married to Harrinia Alexander Dembele, who is said to be a nurse, model and an actress based in the US.
A marriage certificate from the Circuit Court in Arlington, Virgin Island, US circulating on several social media sites seems to confirm the marriage.
But John Dumelo, who is currently in the US after staring in the movie, One Night in Vegas, which also starred Yvonne Nelson and Van Vicker, took to twitter Thursday night to deny the reports.
According to John Dumelo, the marriage certificate was only created for a documentary he is currently shooting for his clothing line in the US.
He twitted that: "I wish I was really married…the fake marriage certificate really looks good. Thumbs up to my crew filmin my clothing line documentary."
The lady at the centre of the story has also refuted the alleged marriage.
Harrinia Dembele also posted on Facebook that: "It's funny how media hype things up.. I am not married to this guy. We did a movie together. But I don't even know how they spelled my name on this fake stuff..."