Two Arrested Onboard Flight Over Attempt To Steal Cash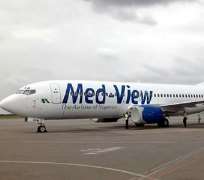 SAN FRANCISCO, April 03, (THEWILL) – Airport security personnel in Lagos Wednesday morning detained two passengers for allegedly stealing N1.5m naira from the hand-luggage compartment of an Abuja bound Med-View plane.
The arrest of the suspected thieves by FAAN security resulted in the delay of the scheduled 9.am flight.
FAAN did not disclose the identity of the detained men.
"The attention of FAAN's Aviation Security personnel was called to the said aircraft by the cabin crew of the airline when an argument ensued between two passengers over missing money from the luggage of one of the passengers, who raised an alarm," FAAN said in a statement confirming the incident.
"Two of the passengers who were suspected by the passenger who raised the alarm were later subjected to body search and substantial amounts of money were found on them.
"The two men were later taken away and are undergoing preliminary interrogation at FAAN's Crime Investigation Bureau, from where they would be handed over to the Police for further investigations.
"FAAN wishes to assure the public, especially passengers, that people engaged in nefarious activities at our airports, will no longer find life comfortable at our airports, as adequate security measures have been put in place to make our airports safer and more secure," the statement by Yakubu Dati, FAAN's General Manager, Corporate Communications said.