Guards Brigade Parades Alleged Terrorist And Drug Dealer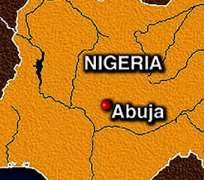 The Guards Brigade command of the Nigerian Army has paraded two suspects said to be a terrorist and drug dealer.
The commanding officer workshop of the Guards Brigade; Lieutenant Colonel Adeyinka Adereti who briefed journalists in Abuja said the first suspect, Mohammed Taheed who was found loitering around an army checkpoint in Abaji attempted to disarm one of the soldiers before he was overpowered.
The second suspect one Adamu Mohammed was apprehended with a J5 vehicle laden with ninety- three bags of cannabis otherwise known as Indian hemp.
Both men denied doing anything wrong.
CHANNELS TV