Victor Umeh And 100 Million Naira Bribe To Court of Appeal Justices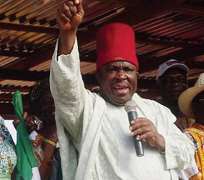 [ ] – Strange things keep happening in Nigeria every day. On Monday, the 25th of March, 2013, another drama played out in the Court of Appeal, Enugu on the cases of APPEALS NOS CA/E/84/2013 AND CA/E/13/2013: CHIEF SIR VICTOR UMEH V. ICHIE JUDE OKULI EJIKE.
Surprisingly, a special panel was set up for Chief Victor Umeh comprising: HON JUSTICE M. GALINGE, HON JUSTICE F. A. KWASSAMI AND HON JUSTICE TOM YAKUBU were detailed by the Acting President, Court of Appela, Justice Zainab Bulkachuwa to grant the request of Victor Umeh and grant stay on a declaratory judgment removing him as the Chairman of APGA.
It is reliable that Ifeanyi Ubah, in whose monthly payroll Victor Umeh is, provided the 100 Million Naira to the AG CJ for the Job. He is desparatly seeking to run as the gubernatorial candidate of APGA under Victor Umeh's APGA and is said to be sustaining Umeh's blackmailing exploits.
The night prior to the sitting of the court, Victor Umeh and his group were celebrating at Enugu, eating and drinking that people were wondering what was in the offing.
In fact, Chief Austin Ndigwe, an aide to Chief Victor Umeh called so many people and sent texts via the phone no of: 08033294666 telling people that the granting of their request was a foregone conclusion.
On the day of court's sitting, Victor Umeh group actually sent out text messages saying they had been granted a stay, even before the court started sitting. To make matters clear, they came to court very prepared with three sets of musical groups: Atilogwu, Nkpokiti and Agwunaechenyi.
To drive home their point, Umeh came with retinue of press men in a bus boldly written Capital Oil & Gas Ltd, preparatory to breaking the news.
The justices, determined to do what they had been contracted for, proceeded to hear the motions even when the respondent, Jude Okoli was not served. As the case proceeded, Jude was called and told what was happening; he now rushed to the court and was even prevented from entering until he created a scene. When he said that he was not served, the Justices apologized and asked that he be served in the court, but went on to fix ruling for the 8th of April, 2013 even when Okoli has not responded. What manner of trial is this? Even if they were contracted to do the hatchet job, they should do it with decorum so that people will not understand what is happening.