Michael KaaseAondoaka (san?): A candid case of corruption and incompetence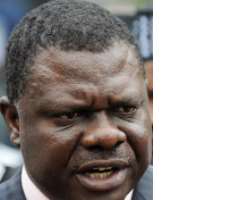 President Goodluck Jonathan (acting) in his acceptance speech among others said, "One of the cardinal commitments of this administration is our commitment to Good Governance, Accountability and Transparency. We shall continue to pursue these policy objectives with all the seriousness they deserve. In particular, the war against corruption will be prosecuted more robustly. We will therefore strengthen the capacity of the anti-corruption agencies and give them a free hand to prosecute the anti corruption war."
The above statement can only be accomplished with a competent and viable chief legal officer. Michael Aondoaka does not fit into this job description. After all, there is abundant evidence that, in terms of leadership, he is a spectacular flop as the nation's top lawyer. He is so phenomenally incompetent and came across as so thoroughly morally bankrupt. My concern is that during several high-profile matters in his blemished professional career he has appeared to serve as a facilitator rather than as an independent force in the policy-making process.
The problem with incompetence is that it can put you in the forlorn position of defending even those things you do legally because you've done them so poorly. The crime of incompetence and corruption hung over the head of Aondoaka like a sword of Damocles. For most people, the Attorney General is a national embarrassment, a pimple on the ass of Nigeria jurisprudence.
In each occasion, history has not been kind either to Andooaka's actual substantive work or to the ethical and moral judgment he exercised on behalf of his clients at the time. In each case, the advice he offered legally dubious to begin with created not just political embarrassment and backlash for his bosses, but unfortunate, even catastrophic results.
The Attorney General's record strongly suggests that he has and still act as a docile and dogged facilitator for the corrupt and usurpers of our democracy rather than as a wise, high-minded legal counselor willing and able on occasion to exercise independent judgment and power.
Since he took over as Attorney General, however, we have seen a monumental shift in attitudes about EFCC prosecution of corrupt government officers and privileged citizens in our country, especially among judges and prosecutors who count. The trend now is toward giving serial looters, criminal and violators of our constitution more protections, the James Ibori case comes to mind.
The culmination of Aondoaka's incompetence, dissimulation, and hubris is shocking. The fact that Yar'Adua keeps him is testimony to Yar"Adua's own incompetence, dissimulation and hubris which are no longer shocking, but rather standard procedure.
If Nigerians are willing to give Aondoaka the benefit of the doubt, and free him from any accusation of willfulness, then he appears to be an incompetent attorney who is not thorough enough to give his clients the best and most complete factual and legal analyses. If that's the case, then President Goodluck Jonathan (acting) has no business keeping him the nation's top attorney when there are so many other qualified candidates.

Felix Ayanruoh Esq. Practices law in New York and The District of Columbia
|
Article source