Three Schools Burnt As Explosions Rock Biu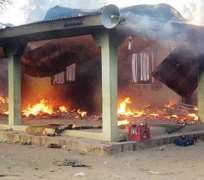 SAN FRANCISCO, March 24, (THEWILL) –Not less than three privately-owned schools were razed in Biu, Saturday night, as gunmen suspected to be members of Boko Haram went on a shooting and bombing spree as they violated the peace of the night in a reign of terror unleashed on the town, which is 185 kilometres away from Maiduguri, the Borno State capital.
The confusion, according to sources, started after midnight and lasted for about four hours as soldiers and suspected Boko Haram gunmen engaged each other in an exchange of gunfire.
Residents of the town were however surprised that no corpse of victims from the encounter was seen on the streets on Sunday morning but only the burnt schools that were still in flame.
A resident of the town, who spoke on condition of anonymity, listed the three burnt private schools as Godiya Primary School, Lajada Private School and Standard Private School.
Expressing shock at the attack despite the imposition of an unofficial curfew on the town, the source said: "We were shocked by yesternight's attacks on the schools because the whole of Biu closes at 5:30pm to observe the curfew imposed on the town since Wednesday's robbery attack at Coca Cola mini depot that led to the death of a soldier and three others.
"We cannot but ask the soldiers to explain to us how three schools could be burnt down during the curfew hours and none of the culprits was arrested."
However, a top security officer in Maiduguri confirmed the attacks to journalists, noting that they were predominantly targeted at schools.
The Joint Task Force (JTF) could not confirm the attacks as its spokesman, Lt. Col Sagir Musa, could not be reached on his mobile telephone when filling this report.