House Of Reps Insists On Oteh's Sack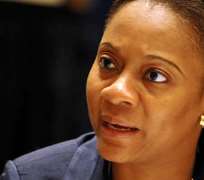 ABUJA, March 22, (THEWILL) – The House of Representatives, Thursday, insisted on the sacking of the Director General of the Securities and Exchange Commission (SEC), Ms Arunma Oteh.
Maintaining its earlier resolution on the issue, the House urged President Goodluck Jonathan to sack the SEC director general immediately.
It would be recalled that President Jonathan forwarded amendment Bills to the 2013 Appropriation Act and the Subsidy Re-investment Programme (SURE-P) to the National Assembly, specifically raising issues on the clause that forbids SEC from spending funds in the 2013 fiscal year, a development he said would spell doom for the capital market.
Both chambers of the National Assembly had in their separate resolutions had asked the President to sack Oteh as SEC's DG, saying she lacked the requisite qualifications to head the Commission, failure of which the National Assembly said it would have nothing to do with the Commission.
But in a resolution passed, Thursday, following the adoption of a motion moved under matters of urgent public importance by Deputy Minority Whip, Hon. Garba Datti, the House also mandated its Committee on Legislative Compliance to monitor the compliance and report back within 21 days.
Leading debate on the motion, Dati expressed concerns that the inaction of the President was an extension of blatant disregard of the resolutions of the House of Representatives, and that most of these resolutions, though products of motions, hinge on fundamental public duty placed on public officers by the Constitution under the Fundamental Objectives and Directive principles of State Policy.
"The motion urging the removal of Ms Arunma Oteh, for instance, hinged on the fact that her appointment as Director -Gerneral of the Securities Exchange Commission was a gross violation of the Commission's Act as she does not possess the minimum professional qualification prescribed for appointment to that position.
"Recently, the Executive has adopted the dangerous and vexatious approach of picking and choosing the implementation of resolutions of the Senate on the dismissal of Abdulrasheed Maina which was passed much later in time while still disregarding the long pending motion on the removal of the Director General of the Securities and Exchange Commission.
"Resolutions bordering on the breach of extant legislations should not be treated with levity as such tends to portray government in bad light," he said.
In their separate contributions to debate on the motion, Minority Leader of the House, Hon. Femi Gbajabiamila and Comrade Suleiman Aminu called for the exercise of the Constitutional powers of the parliament where acts of deliberate negligence are noticed, pointing out that even in advanced democracies, the executive always obey resolutions of the legislature.
Gbajabiamila faulted the assertion that if Oteh was removed, SEC would be grounded as the Commission would still function with a new appointed DG. Others who spoke in support of the motion were Mr Friday Itulah, Tajudeen Yusuf and Ibrahim El-Sudi.