IN THIS SEASON OF ABSOLUTION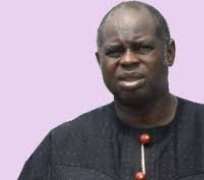 In another clime, the Council of State would be the repository of the nation's collective wisdom and experience, a custodian of its most cherished values, a fount of inspiration, comprising men and women who, having given of their best to their country, would stay splendidly above the fray and would never again seek elective office nor descend into the pit of partisanship.
I suspect that it is that kind of body the framers of the 1979 Constitution in which it was first consecrated had in mind; hence its composition: the President and the Vice President, all former presidents or heads of state, all former federal chief justices, the president of the Senate, the Speaker of the House of Representatives, all state governors, and the federal attorney-general.
Hence also its mandate: To advise the President with respect to his duties on a wide range of subjects in general, and on issues relating to the maintenance of public order in particular 'when asked to do so.'
It would be the body to turn to when the country is buffeted by strife and uncertainty - the very kind of period Nigeria is going through now.
If it has not lived up to that expectation, it is partly because the high-mindedness that lies behind it is vitiated somewhat by the constitutional stipulation that the Council advises the President only 'when asked to do so.' The Council, it follows, meets at the pleasure of the President, to discuss only such issues as he places before it. However expressed, its advice is non-binding.
But even on the few occasions it has been convened, the Council has acted more as a rubberstamp that as an advisory body, endorsing decisions already taken - such as hefty increases in the pump price of gasoline under the pretext of ending a bogus government subsidy- rather than helping to formulate public policy.
Aside from a few honourable exceptions, the Council of State is in its higher ranks a conclave of officials who failed when they had all the opportunity and resources to set Nigeria firmly and irrevocably on the path to progress, prosperity and respectability, if not greatness.
For the most part, they fended for themselves and their cronies. When they thought at all about the people in whose name they claimed to rule or to exercise whatever function was delegated to them, they thought of how to rob them of their voices and their votes and their freedom; they thought of how to deny them justice, to subjugate and stultify them in every way, forgetting that with little men,' nothing great can be achieved.
The state governors, majority of them from the ruling party and subject to its whip and other constraints, hardly depart from the official line.
In effect, the Council's composition is also partly responsible for its near-irrelevance.
At any rate, it has never complained that its name was taken in vain, without corresponding adherence to its values. After perfunctory discussions, the members collect their 'sitting fee'and collateral benefits, pose for the cameras, and then go their various ways until it pleases the President to invite them down again.
By all accounts, that was what happened again last week. The Council dutifully rubber-stamped a fait accompli that President Jonathan Goodluck placed before it. By the time the business was over, the convicted money launderer, holder of a vast portfolio of property acquired with funds of dubious provenance, and a fugitive from British justice, deposed Bayelsa State Governor Dieprieye Alamieyeseigha, had been washed clean of all transgressions. All that remained was formal canonisation.
To create the illusion of even-handedness in this curious enterprise, Dr Jonathan threw into the list of beneficiaries of his prerogative of mercy the late General Shehu Yar'Adua, the late General Abdulkareem Adisa, and General Oladipo Diya, all of whom were convicted of coup plotting by a kangaroo military tribunal set up by the loathsome Sani Abacha but had been officially pardoned back in 1999.
As a sop to the North, he also threw in Shettima Bulama, a former chair of the defunct Bank of the North who had been convicted of corruption.
They forgot to add General Olusegun Obasanjo, who was granted state pardon in the same executive act of 1999 along with the persons Dr Jonathan now purports to pardon all over.
And when he is caught in this duplicitous act, his spokespersons strive mightily to outdo one another in sterile hairsplitting.
Did the members of Council of State attending - four of the more prominent members stayed away - did they not see through this transparent subterfuge? Were they blindsided or otherwise inveigled into endorsing it?
Presidential spokesman Dr Doyin Okupe surpassed his own reputation for boisterousness when he claimed that Alamieyeseigha had more than earned his pardon by working quietly to end the insurgency in the Delta, and that this has resulted in the quadrupling of oil exports.
If that is indeed the case, it would be a powerful argument for dissolving with immediate effect the Amnesty Commission for the Delta or whatever the body is called, and replacing it with Alamieyeseigha as sole administrator. It would also mean that recent appeals to the British Government to help police Nigeria's waters to curtail oil theft, amounting to 50 percent of total production by some accounts, were misdirected.
Why turn to the Brits when Alams is more than equal to the task?
In endorsing the pardon, Chief Richard Akinjide (SAN) lived up to his reputation for brute legalism, utterly bereft of a sociological imagination. Nobody has said that Dr Jonathan acted outside the law. The charge, as I understand it, is that he acted on the basis of his own narrow political calculations, without giving a damn about the larger social and political ramifications.
For once, I find myself on the opposite side of the learned senior attorney, Professor Itse Sagay, a stalwart of the progressive movement in Nigeria. His endorsement of the pardon is entirely out of character. He must have some principled reasons. I do not believe that he would take this troubling position based on regional solidarity alone.
As Alamieyeseigha's attorney, Professor Ben Nwabueze deserves nothing but praise for representing his client to the best of his great ability. But when our own Lord Dicey and Lord Denning rolled into one confers sovereign status on his client and argues that British police were in effect putting Nigeria in chains when they handcuffed his client at Heathrow Airport, it has to be said, with the greatest respect, that he is overstating his case.
The Vienna Convention governing relations among nations does not cover the kind of criminal activity for which his client was detained even if the said client is a diplomat but the act occurred outside his official remit. Alamieyeseigha was no diplomat. At the time of his arrest, he was not on an errand for Nigeria. And he compounded matters by fleeing from justice.
The word in Dr Jonathan's corner, as always, is that there is no going back. But since he is in such an expansive and forgiving mood, he should widen the amnesty.
I understand that Chief (Dr) Olabode George, the PDP chieftain convicted of contact- splitting at the Nigeria Ports Authority, has since completing his prison term been working quietly to rehabilitate those pesky 'area boys' and other categories of social miscreants in Lagos. As a result, business has been booming in areas they ruled by terror, and every Lagosian now sleeps peacefully at night.
How about a comprehensive pardon and clemency for the Chief?
While at it, Dr Jonathan should not forget James Ibori, the former Governor of Delta State, now serving time in British prison for larceny on a scale almost beyond belief. I understand that he has been an exemplary prisoner and a most worthy ambassador of Nigeria.
Surely, a complete pardon for the Ogidigboigboi of Africa would not be amiss in the weeks leading up to celebration of the Ultimate Redemption.