Peter Obi: And it Came to Pass.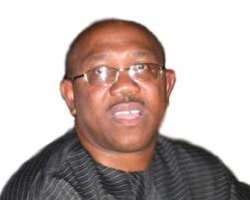 And so, truth triumphed over falsehood, light over darkness, virtues over vices on the issue of who rules Anambra from May 2010 to May 2014. Anambra has made a fitting choice and with it comes the equally strong message to the many political interlopers that descended on Anambra just because its governorship was vacant to hasten to their tents and allow the state to continue enjoying the refreshing breeze of the past four years. In deciding to renew the mandate of Peter Obi, the people of Anambra aptly demonstrated that they are discerning enough to choose between a reality they can feel and touch and a placebo they can hardly identify, let alone feel. In making the emphatic choice of retaining a governor that epitomizes almost all the ennobling virtues we had lacked in the present political dispensation, the people of Anambra served notice to those that had hitherto taken them for granted that they reserve enough strength of character to identify and go for the best, especially on the vexed issue of who is best fitted to take that badly governed state to the apogee of their collective desires.
That lone decision could be felt from the nooks and crannies of a parched and hobbled country such that when it came and with the finality that encased it, no one was left in doubt that if things were done properly, Nigerians can still make a free and fitting choice of who they want to preside over their fate. The lessons were not lost to any one that Nigerians desire to be left to freely choose who governs them. They want no let or hindrance in making this choice and the belief is writ large that once this fundamental right is granted, Nigerians can get it right. Anambra will serve as a metaphor of the suppressed neighing of Nigerians for freedom.
Going into the February 6th gubernatorial race, Peter Obi was an underdog in a race where he was supposed to be the front runner. He was dismissed as an unserious candidate in an election he was supposed to be the candidate to beat. He was underrated by his opponents for the simple fact that he was seen as a queer candidate in a race that in typical Nigerian fashion, should be decided with brawn and muscle. He exuded no known physical strength and sounds annoyingly effeminate, to the chagrin of those who relate politics to one brute and ghoulish enterprise where no captive should be taken. They said he was not a politician, by which the typical Nigerian politician was seen as one that has enough largesse to throw around, with enough empty air and vanity to go round and who wears the epaulette of a superman around him. But he was effeminate, simple and too fragile for a politician that is primed to contest the governorship of a state as Anambra. Even when he was a sitting governor and even when he has the record of seeing off two governors and dissembling the radars of a rampaging and notorious political party, he was not counted as one front runner in the race for Anambra in 2010.
Curiously, no one doubted Obi's honesty and commitment but we were made to believe that these were rustic virtues and valueless antiquities that do not matter again. No one contested the fact that he was the most honest and straight forward of all the contestants but these noble ideals were turned to vices by the desperate politics that was unleashed on Anambra by those desperate to covet the stool he was sitting on. Before our very eyes, a hard working governor was turned to a punching bag but thank God, the grassroots, where it matters most and whose interests forms the corpus of Peter Obi's works as governor never allowed itself to be so fooled.
But then, there is no doubting that in the history of Anambra State, Peter Obi remains unmatched in terms of achievement. When they want to be fair to him, his opponents will grudgingly concede that he has done his best but that his best is not good enough for the state or that he was doing so much so late in his reign. Because he does not believe in turning the instruments of the state to personal use, his opponents dubbed him as a weak and hen pecked governor and never wasted time in poking their hands into his eyes and daring him to do his worst. But having this simplistic notion of power, Obi never took up the challenge but rather invested his entire waking time to what he termed the good of all. In his queer attitude to Nigerian politics, he did not hew a godfather for himself and this further exposed him to the taunts and ridicule of his political foes.
But his opponents went far in underrating the voters they seemingly hoped to swing the votes for them. Given the way and manner they carried on, it was obvious that they simply hoped to swindle Anambra voters. The manner they launched the many deliberate mischief they forged, the spontaneity of the launching of this mischief and how they were employed to advance the emergent campaigns for Anambra showed that those that wanted to snatch Anambra from Obi never invested much respect on the voters' intelligence. In typical desperate fashion, everything was programmed as a short span, buyable enterprise with the aim of swindling the people and cart away their votes. I noticed all these and wrote the vastly published piece, "As the Cloud of Mischief Gathers over Anambra", where I stoutly insisted that what was happening in Anambra in the period leading to the election were plain mischief by some people to get the votes of the people of Anambra State.
I observed the frenetic build up to the polls and the sudden dawn of an era of misinformation and tale bearing that sought to desperately rubbish the enduring legacies of a hard working and honest governor whose biggest crime was that he chose to serve the people and not few godfathers. I noticed the huge effort and investment in tarnishing the image of a governor who was not considered politically correct because he refused to employ the resources of the state to service political rent seekers and charlatans that masquerade as stakeholders. I noticed the misinformation and the propaganda about the activities of the Obi government, the induced alignments and realignments, the momentary wave of insecurity in the state and the wave of resignations that hit the Obi government and concluded that all were tailored towards bamboozling the Anambra electorate and walk away with his votes. I warned the people that Anambra will make the worst mistake of its history if it allows itself to be swindled by the people that fabricate those mischief. Thank God, they refused to be so easily swayed!
In deciding to go with Obi, I know that the people of Anambra were making a poignant statement that they are no fools. They are sticking with a governor they know and can easily relate with. They are deciding to tag along with honesty and forthrightness in government. They voted for hard work and thrift. They are going along with the stability which Obi has brought to bear on Anambra in the last four years. They voted for a simple government that connects with the people at every level. They voted for accountable and trustworthy government, which had proved itself to be genuinely committed to the good of Ndi Anambra. They are sending a strong message to those that have deigned them cheap merchandise that could be bought off the counter that they are not cheap and malleable after all. They have demonstrated a strength of character that sends strong message to the mercenary 'professional groups', cash and carry guilds, rented hack writers and fake pollsters that they know who their leaders are and will stick to them at all times.
Anambra has made a strong statement on democracy and most importantly, has given a bold endorsement to Peter Obi to continue doing what he has been doing for the past four years, which has recovered most of the mileage eaten by the moths and vermin that have decremented the state especially since the dawn of the present dispensation. The people of the state have served a strong worded caveat emptor to the dancers of fortune, political profiteers, desperadoes, swindlers that descended on the state in recent times for the purpose of hunting for political fortune that they are not for sale. They have decided to rusticate the remnant of the idle speculators that have deigned the state another harvest. They have once again, decided to tag along with Peter Obi, who is proving to be the David of Nigerian politics and who is writing a new and refreshing template for politics in the scorched Nigerian space. Peter Claver Oparah. Ikeja, Lagos. Email: [email protected]