IS YAR'ADUA THE BEST THE NORTH CAN DO?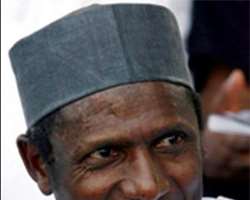 This article was published a week before YarAdua ran away from office on November 23, 2009.

I suspect a mischief maker deliberately imposed Yar'Adua on us to create the excuse to discredit and disgrace the North. He wanted us to believe that Yar'Adua is the best the North can produce and the trick worked. A perfect illustration of our current leadership nightmare was succinctly captured in a Nigerian newspaper cartoon published not too long ago. The cartoon deserves to win the Nobel Prize for its eloquence and brilliance. It was a picture of Yar'Adua, completely fagged out on his back in bed, snoring heavily in deep slumber, with a book entitled the Seven Points Agenda, visibly tucked away under his pillow. Two of his political colleagues who had visited his room and found him sleeping, where walking away from the room discussing him. One said in response to the other's remarks about Yar'Adua, "He is not sleeping, he is meditating." On the rare occasion he manages to open his eyes briefly, it is to protect his criminal friends.

Since the North also gave us the mischief maker, the North must take the blame for inflicting on us, in the forty-ninth year of selfish, corrupt, myopic, uninformed and negligent leadership, a sick, helpless patient, kept barely alive in bed with an oxygen mask. The impression this scenario portrays is that the North does not care about Nigeria and has very low regards for our union or progress as a people. Since the North is entitled to another four years of leadership from 2011, the rest of us hereby beg the North on bended knees, in the name of Allah, or whatever else the North holds dear, not to re-impose Yar'Adua or any one like him or any of our previous leaders on us again come 2011.

After forty-nine years of failed leadership produced mainly by the North, Gowon, Shagari, Buhari, Babangida, Atiku etc, we desperately need a breather from our past leadership mob that over the period, collectively and systematically brought Nigeria down to her knees, destroyed our hopes, and turned our prospects to painful despair. I do not think the North is short of quality materials. After all, while the South gave us Awo and Zik, the North produced outstanding leaders in the mold of the Sarduana and Murtala Muhammad. The later, a dedicated, selfless, young army General and who died launching Nigeria into world reckoning with his exemplary leadership. A people who in recent times gave us the likes of Nuhu Ribadu, must have many more Ribadus locking in the wings. Therefore, if Nigeria is to continue to hold together from 2011, the North must look in the direction of young, fearless, incorruptible, de-tribalized, patriotic, proudly Nigerian graduates, and not any of the current noisy, tribalist, muckworms who put us in the mess we are in now and are threatening to return through a self imposed rescue mission in 2011. Rescue mission to continue to perpetrate our pains.

This is how the book, the Sink, by Jeffrey Robinson, an American writer described the Shagari regime. In 1979 the price of oil had skyrocketed and the country should have prospered. Shehu Shagari and his mates corruptly plunged the country into near bankruptcy. They ran up foreign debt of $18 billion while hustling $15 billion out of the country for themselves. They bought all sorts of goods and services no one needed at prices four times above the market, helping themselves to kickbacks. Creating scandals of shiploads of cement in Lagos habour, which was one of the last oddities before the military struck.

Shagari could not be bothered or was too naïve to control the horde of pen-pushing rogues serving around him. As long as his choice packets of cigarette were handy to feed his chain smoking habit, it was bliss in Nigeria. If the cigarette smoke had allowed Shagari to see beyond his office windows, our frustration and disgruntlement against his regime would probably not have escaped his attention. Nigeria was grinding steadily to a halt. Social services had either totally disintegrated or were not in existence. Anarchy was smoldering, ready to explode like a devastating bomb at the slightest trigger when the army struck.

All our military heads of state were largely insensitive, corrupt, almost illiterate, self-appointed tyrants who seized their stripes of honour (dishonour is probably more appropriate) through coups rather than the rigours of formal training, experience or war. Each one of the military heads of state simply got up from bed one chosen morning, pistle on the hip, jackboots on the ready to besmear our constitution to loot our treasury to their hearts content. Of course, they soon made up on the job for their lack of proper war or soldiering experience by detaining, tear gassing, shooting and bombing citizens protesting against their high-handedness and misrule. Everyone of our coup Generals, aspired to be the richest lazy fool in the world sitting like an over-fed baboon atop the tallest tree in our devastated and rotting vineyard, savouring their exploits amidst squalor, hunger and decaying corpses.

On the 31st December, 1983, Buhari struck, under the cover of the political commotion that trailed the Shagari Presidential election results of the time. In reality, power was seized for the opportunity to destroy documents relating to the NNPC's missing US$2.8 billion oil money, and punish all those involved in unraveling the scam. Politicians and critics, including Fela Anikulapo-Kuti, notorious for clamouring for the exposure of the oil money rogue Minister, were locked up without trial. The regime had a penchant for incarcerating all and sundary. Satire saved my neck at the time. As head of state, Buhari was a recluse to the core. At least, that was the image he portrayed. His deputy, the late Gen. Idiagbon, was considered by most Nigerians to be the star of Buhari's regime. It is to Idiagbon that any credit due to that regime is generally attributed. Idiagbon was the defacto head of state. He was honest, upright, disciplined, and like Murtala Muhammed before him, he succeeded briefly in introducing order and sanity to our lives.

Abacha rehabilitated Buhari with the Chairmanship of the Petroleum Trust Fund (PTF) before he (Abacha) died in 1998. When Obasanjo returned to power in May 1999, he found that over 2.5 billion naira had not been properly accounted for in the PTF and that there was not much on the ground to show for the colossal expenditure the agency was claiming. On the day Obasanjo announced the scrapping of the PTF, a non-staff brother-in-law of a senior personnel, allegedly serving as a conduit on some PTF projects, died suddenly from what appeared to be heart failure.

As for Gen. Ibrahim Babangida, another ex-military dictator, who was aspiring to return as president in 2007 and, of course, 2011, although he threw his hat in the ring in 2005, no patriotic Nigerian took him seriously because everyone knew he was scared stiff of Nuhu Ribadu's EFCC, that had assembled a heavy dossier on him. Babangida betrayed his fear of EFCC when at his August 15, 2006, birthday lecture, he described Obasanjo as not being a saint himself. Babangida, of course, used the tenure elongation campaign of Obasanjo, to try to re-launch his presidential bid in April, 2006, by being seen to be on the side of the masses, but no Nigerian was in doubt about his antecedence on the issue of democracy and what he would do if he got back to power. Obasanjo's massive foreign exchange savings would have been looted within hours of returning to power, that is for sure.

All that Babangida, (nicknamed IBB), has to show for his over eight years in power is private colossal wealth, and the edification of corruption in our body politics. Yes, he is richer than many African governments and can buy who ever he wants, but he ruined our lives to reach there. The book, The Sink, by Jeffrey Robinson, an American writer, says it all about Babangida. "Of the $120 billion siphoned out of the Nigerian treasury into offshore accounts by dishonest politicians, $20 billion is allegedly traceable to IBB directly as president from 1985 to 1993." IBB who inherited $12 billion in foreign debt, increased this to $33 billion in eight years, most of it 'frittered' away into private accounts abroad. So, he wants to return to re-visit the hardship of severe debt burden on us, all over again, to achieve a record $100 billion personal fortune perhaps. M. D. Yusufu, a former Inspector General of police said in Karl Maiers book, This House has fallen, that: "Babangida went all out to corrupt society. Abacha was intimidating people with fear. With him gone now you can recover. But this corruption remains and it is very corrosive to society."

IBB is alleged to have killed Dele Giwa. He closed down Ogun state radio; Concord, Guardian, Punch and Sketch newspapers; Newswatch and News magazines, during his time. Some media houses were burnt and critics of government were murdered, incarcerated or hounded into exile while he ruled. Plane loads of promising young army officers lost their lives in questionable circumstances. Others appeared to have been sacrificed in distant land civil wars.

The Ejigbo military Hercules crash that killed an elite corp. of army captains and majors returning to their Jaji training base, is a typical example of the terrible human carnage visited upon us at the time by a desperate tyrant bent on holding on to power indefinitely at all costs. The plane was allegedly doctored and it crashed a few seconds after take-off from the Murtala Mohammed airport. No rescue attempt was ordered or made until 24 hours after the crash and even then, the inadequate facilities of a private company, (Julius Berger), were relied upon. Forty-eight hours after the crash, a warm body was still found suggesting that some lives could have been saved if rescue operations had commenced minutes after the crash.

Babangida treated with contempt the Justice Chukwudifu Oputa led Human Rights Violation Investigation Commission (HRVIC), when summoned to answer charges on the murder of Dele Giwa. He also rushed to the court to prevent the implementation of the report of the Commission as it affected him.

Speaking obliquely a few years ago in Babangidaspeak, he threatened that when he would speak on the June 12 annulment issue, Nigeria would shake to her foundations. In an interview in late May, 2004, on Channels TV, Babangida spoke on the June 12 issue, and no feathers were ruffled. Instead, Babangida admitted toothy smile and all, that he made a mistake but that he did it in the interest of Nigeria. That was the same argument Mariam Abacha used when asked about her husband's loot stashed away in his foreign accounts. She said her husband was saving the money for Nigeria. On hindsight, we got some of the money back didn't we? That is more than can be said about Babangida's hoard and the political turmoil he plunged Nigeria into since his selfish, irresponsible, June 12 annulment.
Babangida annulled the June12 election entirely on his own, based on his selfish, personal agenda to rule indefinitely. Before annulling the election, he rallied the connivance and support of some critical Emirs and a leading Yoruba traditional ruler known to be antagonistic to Abiola's political ambition, and the signatures of a bunch of political and military apologists (or jobbers), tagged the G-34, on a document entitled 'Peace Pact,' in endorsement of his annulment of the June 12, 1993, elections.

The G-34 comprised of the following members of the military junta and leaders of the two political parties, the SDP and the NRC: Admiral Augustus Aikhomu, Chief Earnest Shonekan who eventually headed Babangida's contraption called the Interim National Government (ING), General Shehu Musa Yar'ardua, Alhaji Sule Lamido, Alhaji Adamu Ciroma, Amb. Dele Cole, Chief Tony Anenih, Chief Jim Nwobodo, Brig-Gen David A. B Mark, Alhaji Abubakar Rimi, Alhaji Olusola Saraki, Chief Dapo Sarumi, Chief Joseph Toba, Chief Bola Afonja, Dr. Hammed Kusamotu, Dr. Okechukwu Odunze, Prof. Eyo Ita, Y. Anka, Alhaji Bashir Dalhatu, Chief Tom Ikimi, Barrister Joe Nwodo (who signed with reservations), Dr. Bawa Salka, Alhaji Abba Murtala Mohammed, Alhaji Abdulrahman Okene, Lt. Gen Joshua Dongoyaro, Lt. Gen Aliyu Mohammed Gusau, Brig-Gen John Shagaya, Brig-Gen Anthony Ukpo, Halilu A. Maina, Alhaji Bawa Salka, Mr. Amos Idakula, Mr. Theo Nikire, Alhaji A. Ramalan, Alhaji A. Mohammed. Many of these traitors are still making decisions for Nigeria today.

On why Babangida ignored all pleas not to kill Mamman Vasta, the master dribbler said that Vasta's death was a painful decision for him, but that he had no choice in the matter, because he was following military rules, and he did it in the national interest. But Vasta, his fellow infantry soldier and childhood friend, was hurriedly killed and his body dumped in a mass grave on the night of the announcement of his sentence, (i.e. early morning of 5th March 1986), to prevent last minute pleas for reprieve. Acid was poured on the bodies, including Vasta's and burnt, so one must ask, was the rush to kill Vasta and burn his carcass sanctioned too by the military laws? The whole thing smacks of envy, apart from being hideous and barbaric. Babangida used the phantom coup allegation to remove or marginalize the Middle Belt military top brass in his government.

Almost all the principal characters involved in leadership tussles with Babangida since 1985, Abiola, Gen. Yar'Adua, Idiagbon and even Abacha, have all died through induced cardiac arrest, lethal injection, poisoned food, gassed telephone handset, etc, etc, and my fear is whether Nigeria would survive the Godfather himself? Babangida usurped eight years and eight months of the thirty-three years of military misrule and still wants to come back to finish us off properly. If he was honest with himself, he should be heading for kirikiri instead of Aso Rock. He ought to be ashamed for the economic, political and social mess he has turned Nigeria into.

The accusation in 1999/2000 that the president's deputy, Atiku Abubakar, privatized Nigeria Incorporated to himself was not investigated because Obasanjo's third term ambition was not strong at the time. Atiku denied ownership of African Petroleum (AP), which in the end turned out to be a bobby trap, laced with huge hidden debt, and was re-acquired by the government through the NNPC. However, Atiku was seen as a product of the Nigerian corrupt system. He retired as a boss of the Customs several years ago, an agency of government that reeks with corruption. There were some spats over contracts for the communications garget for the 8th All African Games in 2003, in Abuja, and the issue of bunkering crookedness, and illegal rents collected on crude oil lifting, which Obasanjo largely scuttled in the heat of his tenure elongation project in March 2006.

In August 2005, and early 2006, we heard of US security operatives raiding Atiku's home in Washington, USA, over allegation of involvement with Mr. William Jefferson, a member of the US Congress, in a US $500,000 bribe over a telecommunications deal in Nigeria. In mid May 2006, the FBI claimed in a US court to have found US $90,000, of the bribe money concealed in a freezer in the office of Mr. Jefferson. Mr. Jefferson who at the time was claiming to have been duped by some Nigerians, had, in fact, collected $6.5 million from one Otumba Oyewole Fasawe, the Nigerian behind the Netlink Digital Television (NDTV) private business that Jefferson was contracted to supply with technology and failed. Jefferson had with great difficulty, and after a lot of pressure, managed to refund only $1.7 million of the $6.5 million he had received, at the time he was screaming foul-play against his swindled Nigerian partners. Mr. Vernon Jackson, Jefferson's agent on the NDTV scam, was jailed in the USA in September 2006, for seven years over the deal.

The Petroleum Development Trust Fund (PDTF), under the supervision of Vice President Atiku, had apparently been used to finance the NDTV business and Globacom. On May 31, 2006, the US government, in reaction to public speculation in Nigeria, denied having cleared Atiku of involvement in the NDTV fraud. Early in June 2006, Atiku was again alleged in a US court, where further hearing was continuing, to have been involved in the bribery scandal. In mid July 2006, the EFCC went to a bank and collected statements on Atiku's current accounts.

On Thursday 7th September 2006, the Senate President read in the Nigerian Senate, a letter from President Obasanjo accompanying some documentary evidence, alleging conspiracy, fraudulent conversion of funds, corrupt practices, and money laundering, against the Vice President. The submission, which was for the information of the Upper House, claimed that the President, acting on information received from the USA government, set up an administrative panel to investigate the allegations against Vice President Atiku.

The report of the panel, along with the findings of the EFCC, claimed that the Vice President utilized for private purposes, funds put in a fixed deposit account for the Petroleum Development Trust Fund (PDTF), a department of government under his care. In essence, the Vice President was acting as money lender with government money for personal profit. US$10 million of the US$125 million fund was clearly used as collateral in support of a loan of N1.2 billion granted to Otumba Oyewole Fasawe by the Trans International bank in Lagos. The financial gain made by the Vice President from Fasawe over the loan was paid into Atiku's Campaign Organization account with Bank PHB. Umar Pariya, Atiku's aide, acted as the go between on the transaction. The balance of US$115m of the PDTF money was transferred in April 2003, for reasons unconnected to PDTF activities, to Guarantee Trust Bank belonging to Dr. Mike Adenuga, the Vice president's friend and Chairman of Globacom. The fund's transfer, like the US$10 million withdrawn from it earlier, was done without the required recourse to the Federal Executive Council (FEC).

Argument by the Vice President that the US$115m was put in Adenuga's bank eight months after Globacom's operating license was paid for or that no money was lost, does not alter the fact that the fund was moved without FEC's awareness and for purposes unrelated to PDTF projects, including possible attempt to cushion Globacom over an urgent business deal or external debt repayment pressures for personal profit.

The Vice president's defense at the time sounded like, 'I am guilty but I shared my illicit gains with the President and my party, the PDP.' The Vice President, now politically dead, alleged that the President's profits from the messy deals included N3 billion directly; their joint billions of Naira campaign fund; N100 million made to the president's IBAD construction company; N11 million given to his Bell Comprehensive High School to buy buses; N200 million used to clear some of the president's debts; N100 million contributed to his campaign fund; ugly arms deal scams; funds given to his African Leadership Forum and to buy cars for women (married or not), he was ensnaring to his bed etc; N500 million made available to the campaign chest of the PDP….
On Tuesday October 3, 2006, Chief Dan Etete, a Petroleum Resources Minister in General Abacha's regime, opened a can of worms on the Vice President's ugly oil deals, and how INTELS, (a company in which the VP had substantial interest and shared ownership with two Italians, Messrs Gabriel Volpi, and Angello Perruzi, and a Switzerland based lawyer called Lugano), sold a piece of land on the water front in Port-Harcourt to Shell for US$100m. The VP, using INTELS, and (Pecos Nigeria Limited, a business front of Otunba Oyewole Fasawe), blackmailed and pounced on 50% of Malabo's oil bloc 245. Then with the connivance, treachery, and crookedness of Shell, the Anglo Dutch Oil giant, stole the entire bloc 245 from Malabo at US$210m profit to the Vice president and his business cronies. Using similar tricks, the VP's INTELS and Associates cornered 20% stake in oil bloc 247 belonging to another party.

The VP's defense was that Atete should not be taken seriously because he was in exile after "supervising the collapse of Nigeria's refineries…. and that Etete stole over US $5bn from the public treasury and allocated the oil bloc in question to himself when he was Minister of Petroleum Resources." That during the scam in question and since, the Petroleum Ministry has been under the firm grip of the President, "all by himself, these last seven and half years. Every Nigerian is literate to the fact that all enquiries on oil and related matters go to the president's desk….. When the big masquerade behind Etete is courageous enough to come out, the Vice president will respond." What this means in essence is that others not mentioned in Etete's report profited along with the VP from the loot.

The president the North forced on us from the West, spent billions of naira to guarantee uninterrupted power supply to the nation but only Aso Rock (the presidential villa) was partially out of darkness throughout his tenure. Instead of admitting that someone abused his trust or that they pocketed the investment on power supply and so could not plan properly, they kept insulting our intelligence with the lame excuse that one of the largest gas producing countries in the world ran out of gas for Afam and Egbin power plants. At other times, they cooed that water dried up at Kainji or that a fly hit the transmission line to the national grid.

The economic blue print of Obasanjo's government was that the power out put which was put at 3,500 mega watts at the beginning of his regime in 1999, would jump to 6,500 mega watts by 2001 so, the government invested colossal public funds to bring this about. The Power Holding Company of Nigeria, PHCN, (which I call 'Please Hold Candle Now'), came into being on May 31, 2005, to replace National Electric Power Authority, NEPA nicknamed, 'Never Expect Power Always.' PHCN's Chief Executive, Joseph Makoju, said in an interview published in the Guardian of May 14, 2006, that the government had invested over N275 billion in the sector in the past six years. N55b in 2000; N25b in 2001; N35b in 2002; N12b in 2003; N60b in 2004; N56b in 2005; and N50b was projected for 2006. After these heavy investments Nigeria was distributing on average, less than 2,000 mega watts of electricity in mid 2006. The Minister of Power said in May 2006 that, "Nigerians should not expect to enjoy regular power supply until 2056." Obviously, that was too optimistic because the more we spent on power generation, the less power we got, thanks to the crooks surrounding the enterprise.

In addition to Obasanjo's two billion naira library project scandal, he was alleged to have acquired by means that are not above quarries, kilometers of beach land for his Bell University business, on the left hand side of the road immediately after the Badagry town roundabout, on the Expressway to Seme, Benin Republic border. Those dispossessed of their land were threatening and waiting to fight for their rights and due compensation, at least, after his presidency has ended, which probably was another reason he required to remain in power indefinitely by corruptly amending the constitution by fiat.

His battles over land issues were matched only by his endless fuel pump price maneuvers. Obasanjo was alleged to own or have interest in Bell Oil and Gas Company, which apart from controlling some oil blocs, marketed crude oil, packaged gas, and imported refined oil for the NNPC. Some also alleged that Obasanjo had a hand in OBAT (does this not sound like president and vice president?) oil marketing outfit retailing petroleum products with the state of the art facilities at the Beachland estate in Lagos. If these allegations are true, raising petroleum pump price daily was no more than a selfish, greedy obsession for untrammeled wealth. Obasanjo increased fuel pump price twice as military head of state, and systematically in six years as civilian leader from 1999, from N20 to N65. But what do our leaders want so much loot for? Has greed no limit? They can't take anything with them when they die? Their greed for foreign exchange at any price, to import refined oil, was responsible for the continuous fall in value of the naira.

Obasanjo denied the National Assembly the opportunity to probe NNPC's accounts from 1999, when he took office. The early 2006 preliminary audit report presented by a London consulting firm, confirmed that a lot of fraud was being perpetrated at the NNPC, from the under declaration of lifting details and money collected, to the connivance with foreign oil companies to cheat Nigeria. Was it possible for such things to be happening without the president knowing about them, after all, he refused to appoint a full fledge oil minister from the inception of his 1999 presidency, and ran the office directly himself? In any case, when the final report by the foreign auditors was being presented to him and FEC, in late April 2006, he did not want the report presented. He rejected it off-hand, and asked the audit firm to go back and do more work on their report, obviously as a delaying tactic to kill public interest, that was at its height at the time on the matter.

Hon. Bashir Nadabo collected over 180 signatures in the House of Representatives to begin impeachment moves against Obasanjo in mid 2005. Sixteen impeachable offences, which soon grew into 18 were presented, and included the president's reckless disregard for Constitutional provisions and the rule of law, including the judgment of the Supreme Court over Lagos state local government's funds. Extra judicial spending, the non-implementation of budget, and the falsification of the 2005 Appropriation Act. The abuse of power, leading to security breach in Anambra State. Obstruction of the presentation of the Ministry of Petroleum Resources account books to the National Assembly, and the appointment of his children in government, including his son as the de-facto oil Minister. Obasanjo had the effrontery to accuse his hand-picked chairman of the PDP, Dr. Ahmadu Ali, of nepotism. Ali's problem was that he recommended his wife and son for plum government posts, and was caught out by the press before he could consolidate. The president was only playing to the gallery when he denounced Ali; his own children were visibly or otherwise holding top-ranking positions in government at the time.

In late August 2005, Urji Uzor Kalu, the Abia State Governor asked Obasanjo the following questions: (1) Who collected the commission for the sale of Ajaokuta Steel Company and the Delta Steel Rolling Mill at Aladja? (2) Why has Obasanjo refused to probe the over N300 billion scam at the Ministry of Works between 1999 and 2003. (3) Why has Obasanjo not openly declared his assets? (4) Did Obasanjo not use tax payers' money to finance the gigantic sports complex and hostels at his Bell secondary school through Strabag Company five years ago? Who is picking the bill for the transformation going on at frenetic speed at his Ota farm? (6) Why has there not been properly audited account of the Ministry of Petroleum Resources since he took over as Minister in 1999, despite evidences of major deals through cronies and the fraud at the NNPC involving crude oil sales? (7) Who has been cornering the commissions on crude oil sales? (8) What about his foreign accounts and the platinum credit card he collected recently? (9) Who got the Abuja national stadium contract that was inflated five times above its original quotation by a Chinese firm?

When Obasanjo was asked on a CNN interview in the US about his alleged foreign accounts, he said he would leave that to the EFCC to investigate. When the EFCC boss, Nuhu Ribadu, was asked by the Nigerian press if he was going to investigate the allegations made by Kalu against the President, Ribadu literarily said he could not probe the president because he needed to be spoon-fed with evidence.

Partial spoon-feeding came, indirectly through the Budget Monitoring and Price Intelligence Unit, (BMPIU), in a 65 page manual on public procurement reform programme in Nigeria, published on May 17, 2006, but EFCC still refused to act. The BMPIU report said the Abuja stadium contract was inflated by over N7bn, because the contract value of the stadium at N37 billion, failed its public procurement compliance test. The BMPIU, otherwise referred to as the Due Process office, confirmed that it achieved a post-procurement cost savings of N7.19 billion from the stadium's contracts, implying that they were inflated by N14.19 billion at least. The contracts were awarded in 2000 before the Due Process office guidelines were formulated. Three contractors executed the contracts. Package A, which was the Main Bowl plus Valodrome, was handled by Julius Berger Nigeria Plc. Package B, the Indoor Sports facilities and hockey pitch, were awarded to Bouygues Nigeria Ltd, and Package C, the Games Village, went to a company or group called CCEC. The CCEC's (a group not publicly identified) aspect of the contracts, appeared to have been the most corruption ridden of the three. The contracts were placed under recurrent budget in the 2003 Budget.

Obasanjo owned US$200m (i.e. some N27 billion) worth of shares in Transcorp. For someone who claimed to have had only N20,000 to his name in bank account when he returned to power in 1999, he obviously had some explaining to do about how he amassed the N27 billion he invested in Transcorp within four years in office. It is estimated that over N250 billion in cash, (apart from other inducements like allocations of oil blocs and sumptuous government contracts), was used to corrupt the system that spawned his third term saga.

The Central Bank of Nigeria's periodic statement of accounts released in the second week of May, 2006, showed massive and curious withdrawals in the seven months preceding the constitution amendment debate at the National Assembly thereby fueling speculation that the government had been withdrawing funds from the (Nigerian Excess Crude Oil Account, managed by the Ministry of Finance, through the Central Bank), to finance the campaign for tenure extension. Between October 2005, and April 2006, US $14,264 billion (about N1, 857 trillion), was withdrawn from the account called the 'Federation Account,' without the constitutionally required legislative authority. While two withdrawals were listed as payments to the Paris Club, including 1% commission on each payment, another payment that was not of public knowledge was listed, making three sets of payments to the Paris Club. There were various withdrawals listed as payments for Niger Delta Power Com plants between October 4, 2005, and April 5, 2006, amounting to US $2.4b. The other very disturbing withdrawals were made without giving reasons or explanation as follows: 12/12/05 ($170,549,006.00); 15/03/06 ($471,143.17); 20/03/06 ($442,947.50); 22/03/06 ($144,063,485.00); 27/03/06 ($17,290,067.04) and on 30/03/06 ($630,115.85) making a total of ($333,446,764.56) or over US $333 million. (Courtesy Punch, May 9, 2006). The Senate decided on May 2, 2006, to investigate some of the withdrawals, which if they had been necessary, should have been made from the Consolidated Revenue Account after due legislative approved. While we were waiting for explanations for the withdrawals, Obasanjo claimed that the $17,290,067.04 he withdrew illegally on 27/03/06, was for the two extra days he arbitrarily imposed for census enumeration.

The circumstances surrounding the unresolved deaths of Bola Ige, A.K Dikibo, Harry Marshall and Chuba Okadigbo, promoted the poisoned atmosphere for further political assassinations, including that of Funsho Williams in Lagos, and Ayo Daramola in Ekiti States, between mid July and early August, 2006. An atmosphere, which when taken along with the vicious and inhuman sacking of Odi and Zaki-Biam earlier, left a bad taste in the mouth about a possible sadist party, regime or despot, intolerant of opposition in the mould of the killer of Dele Giwa.

Why do we keep re-cycling these spent and now almost senile coup Generals and discredited politicians who have consistently demonstrated hatred for our welfare as a people and stolen our treasury dry? Even if we were cursed, must we continue to surrender to it in perpetuity? Of course, the coup General rogues and their political cohorts have their loot to rig and buy their way back to power again and again but have we not now reached the point to say enough and no more? Are we so stupid as to allow them to return to mess up our lives again for another 50 years? Are they the only materials available in a country of over one hundred and forty million people and parading thousands of some of the best brains in the world in almost every field of human endeavours? If by any chance any of these fingered ex-leaders comes back by what ever means in 2011, he would not rule over one Nigeria because we are not all a cursed people. That is for sure.

NAIWU OSAHON Hon. Khu Mkuu (Leader) World Pan-African Movement); Ameer Spiritual (Spiritual Prince) of the African race; MSc. (Salford); Dip.M.S; G.I.P.M; Dip.I.A (Liv.); D. Inst. M; G. Inst. M; G.I.W.M; A.M.N.I.M. Poet, Author of the magnum opus: 'The end of knowledge'. One of the world's leading authors of children's books; Awarded; key to the city of Memphis, Tennessee, USA; Honourary Councilmanship, Memphis City Council; Honourary Citizenship, County of Shelby; Honourary Commissionership, County of Shelby, Tennessee; and a silver shield trophy by Morehouse College, USA, for activities to unite and uplift the African race.

Naiwu Osahon, renowned author, philosopher of science, mystique, leader of the world Pan-African Movement.
Disclaimer:

"The views/contents expressed in this article are the sole responsibility of the author(s) and do not necessarily reflect those of The Nigerian Voice. The Nigerian Voice will not be responsible or liable for any inaccurate or incorrect statements contained in this article."
Articles by Naiwu Osahon