Why The Government Pulled The Plug On Oil Blocks Allocation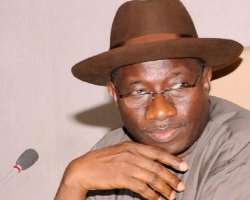 PHOTO: NIGERIAN VICE PRESIDENT, DR. GOODLUCK JONATHAN.
San Francisco Feb 06, (THEWILL) – THEWILL has been able to independently confirm that the Nigerian government has suspended all new oil allocations including marginal fields and oil blocks until President Yar'Adua returns to the country. The suspension also affects all current negotiations between government agencies and prospective investors in the nations oil and gas sector.
The order was contained in a memo from Vice President Goodluck Jonathan to the Minister of Petroleum, Dr. Rilwanu Lukman.
An Aso Rock source told THEWILL that the federal government's order was made to protect the country's oil assets from some greedy and selfish persons who have capitalized on the president's illness and long absence to cut oil deals with their cronies and some Chinese companies. The deals include appropriating oil blocks and marginal fields to themselves and interests, while also receiving commissions and brokerage fees.
Particularly fingered in the deal are members of the president's kitchen cabinet especially Dr.Tanimu Kurfi Yakubu and Dr. Sayyadi Abba Ruma.
The government's directive came after presidential adviser on petroleum matters, Dr. Emmanuel Egboga disclosed in an interview to some foreign media that the government was on the verge of handing out new oil licenses for more than two billion barrels of the nations oil reserves, a statement which did not receive the government's blessings, and considering that matters relating to acreage allocation licenses are not in Dr. Egboga portfolio.
Though information on what prompted Egboga disclosures are still sketchy, findings however, showed that members of the powerful kitchen cabinet have been scheming to sideline the Constitution to enable them take control of both the presidency and the country's oil reserve in the president's absence, knowing that oil licenses are due for renewal this year. This explains why they have frustrated and opposed all moves geared towards allowing the vice president exercise full presidential powers for fear that he might rock the boat.
THEWILL checks revealed that the oil deals, which run into several millions of dollars, would give members of the cabal and some Ministers in the current cabinet huge kickbacks in commissions and brokerage fees. Some of the Ministers have even positioned themselves to acquire some marginal fields and oil blocks through proxy companies who they have positioned to benefit from the next round of licensing. This explains why some members of the Executive Council who now know the facts are breaking away from their dubious colleagues. One of them is information Minister, Professor Dora Akunyili. Our checks also revealed that others like Odein Ajumogobia, Sam Egwu, Ufot Ekaette and Diezani Allison-Madueke would publicly break ranks too with the Council on its decision that the president is not incapacitated.
Since the president's hospitalization, members of the cabal have reached out to Chinese companies including CNONC, a Chinese government owned oil firm which had indicated interest in acquiring 23 oil licenses including those operated by Royal Dutch Shell, Exxon Mobil and Chevron. The Chinese had indicated that they want to acquire six billion barrels of crude from Nigeria.
The federal government's move, which has obviously dealt a big blow to the cabal, would ensure that due process is followed during the renewal exercise when the president recovers fully and returns to office.
|
Article source