5th Bola Tinubu Colloquium Holds March 28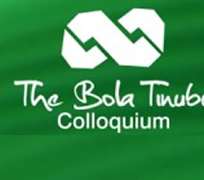 SAN FRANCISCO, March 15, (THEWILL) – The Annual Bola Tinubu Colloquium will hold on Thursday, March 28, 2013, at the Muson Centre, Lagos.
The theme of the colloquium, which is in its 5th edition, is "Beyond Mergers: Movement for National Change, A New Generation Speaks!"
Part of a statement from the planning committee reads, "This year, the colloquium seeks to bring new voices to the table to interrogate ways by which we can meaningfully engage the political space and sustain a national movement for change that will result in a national transformation as we have seen happen in some countries around the world in recent years.
"The keynote speech will be delivered by Femi Edun, who will speak broadly about Poverty and the Nigerian State. The other speakers that have confirmed their participation include: Hafsat Abiola-Costello who will speak on "The Millennium Development Goals: where are we in the race and how can we go faster?", Bankole Wellington (Banky W) will discuss New Media and how this can help shape the ideas for the national movement for change while Myani Bukar will speak to the issues of citizenship and identity. Kola Oyeneyin, a social entrepreneur and convener of 'Sleeves-Up', will highlight "The responsibilities of the older generation to the younger generation in charting a course for change," while Yemi Adamolekun will speak on "Sustaining the national movement for change."
"The event will be chaired by Nobel Laureate, Professor Wole Soyinka.
At the Colloquium this year, the Movement for National change (M4NC) will be launched with the sole objective of mobilising new intellectual voices across the country to engage the political space and cause a permanent shift in governance at all level. M4NC will be responsible for grooming a new generation of politically and socially conscious individuals that will play a greater role in shaping the future of this country. The M4NC is a non-partisan group and will be lead by a coalition of young Nigerians and civil society. Our goal is to use various social media outlet for the launch of this movement and let it metamorphose into a powerful force of change."