Wall Street Edges Up, S&P 500 At Highest Level Since Oct 2007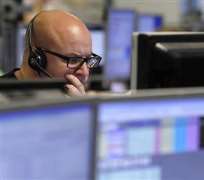 Wall Street inched higher on Monday as earlier weakness prompted some buying and investors pushed the S&P 500 to its highest intraday level since October 2007.
By midday, the Dow Jones industrial average and the S&P 500 were trading in positive territory, continuing last week's rally that took the Dow to record highs. The S&P 500 is only about 1 percent away from its all-time closing high.
Wall Street's "fear gauge" fell to the lowest level since April 2007, suggesting investors were not spooked by Monday's consolidation. The CBOE Volatility Index .VIX, known as the VIX, dropped 5.5 percent to 11.90.
U.S. equities have rallied strongly since the beginning of the year, helped by signs of improvement in the economy, and pullbacks have been short lived as investors look to get into the market.
"There's real belief in this rally," said Tim Ghriskey, chief investment officer of Solaris Group in Bedford Hills, New York.
"There are lots of investors out there looking for opportunities to put more money to work in equities, and they're using these little pullbacks we've had - and there haven't been many - as purchasing opportunities."
In the first three months of the year, the benchmark S&P has gained nearly 9 percent.
On Monday, the S&P 500 rose to its highest intraday level since Oct 15, 2007.
The Dow has climbed 10 percent for the year.
Wall Street had traded slightly lower earlier in the day as Italy's credit downgrade and disappointing Chinese economic data gave investors a reason to pause.
Shortly after midday, the Dow Jones industrial average .DJI added 27.03 points, or 0.19 percent, to 14,424.10. The Standard & Poor's 500 Index .SPX edged up 1.69 points, or 0.11 percent, at 1,552.87. The Nasdaq Composite Index .IXIC was down 1.03 points, or 0.03 percent, at 3,243.33.
The U.S.-listed shares of BlackBerry (BBRY.O) (BB.TO) surged 11 percent after U.S. carriers said they would soon begin selling the company's long-delayed Z10 device. The stock shot up 11.1 percent to $14.51.
Dell Inc (DELL.O) has agreed to give Carl Icahn a closer look at its books less than a week after the activist investor joined a growing chorus of opposition to founder Michael Dell's plan to take the world's No. 3 personal computer maker private. Dell shares were up 1.3 percent at $14.34, above the take-private offer price of $13.65.
Genworth Financial Inc (GNW.N) shares jumped 6.3 percent to $10.46 following a report by Barron's that the mortgage insurer's stock could almost double in the next year, boosted by gains in mortgage and healthcare pricing.
In contrast, Dick's Sporting Goods Inc (DKS.N) fell 10 percent to $45.53 after the retailer reported lower-than-expected fourth-quarter results and gave a disappointing forecast.
REUTERS