I'm Celebrating My Father's Life And Not His Death- Dr. Sid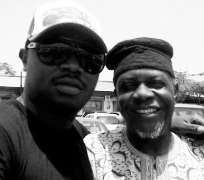 Sidney popularly called Dr. Sid in the entertainment world has revealed that he's not going to dwell on his father's death, Justus Esiri, the veteran actor but celebrate his life well spent.
Dr. Sid, though, refused to make any further comment as regards the father's death due to the fact that, the family highly lampooned him for using a press release without the knowledge head of the family "That is why I don't want to talk. We have a lot of elders in the family and I don't want to start acting like the head of the family," he confessed. When asked about the burial arrangements for the great actor, he revealed that the family was still deliberating on the issue, explaining that there were many factors to look out for.
He said, "There were plans to bury him on the April 6, but it would be improper. He was a staunch Catholic and on the 6th will be during the lent period. We are also looking at 20th of April. But like I said, these are not information that is solid. There are still a lot of deliberations. When the time is right, we will release an official statement. I can however disclose that he will be buried in Abraka."