Increasing Cases of Open Racial Discrimination in Fashion and Modeling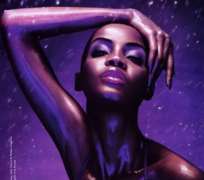 ~ Naomi Campbell, Daily Mail, 13 November 2009.
Women of colour who have had a great experience in life need to share their experiences with others. The world is not made up of blonde hair and blue eyes. We need to share ourselves.
>

Candice Swanepoel is the epitome of the classic Caucasian model.
The discrimination against non-Caucasian models has continued in the fashion capitals of New York, Milan and London, because the top modelling agencies run by white owners and managers are racially biased against young black and Asian models who have been turned down many times while their white counterparts and peers have been given special preference and chosen ahead of the black and Asian girls at casting calls and auditions even in cases where the black and Asian girls look better than the Caucasian girls by miles.

Asian model.
>

Ling Tan and Ai Tominaga.
I have seen the biased opinions of white model scouts who look for a million and one excuses to reject very promising black and Asian girls who would have been accepted and celebrated if they were white in colour In fact, many of the leading fashion and beauty magazines like VOGUE, ELLE, Vanity Fair, Glamour and others have ignored this racial injustice against black and Asian girls.
>

Chanel Iman.
The list of the richest supermodels today is enough proof of this glaring racial discrimination in the Caucasian controlled fashion world. Only Iman, Naomi Campbell and Tyra Banks made the list from the highest paid Gisele Bündchen to the richest Kathy Ireland who has made over $350 million so far. And currently no single black model is among the highest paid active super models in the world since 2012 to date.
>

Betty Adewole. Photographed by Seye Isikalu.
Having a few black or Asian models making covers of white oriented magazines is just consolatory and does not address this problem that we all know is doing more harm than good to the fashion and beauty industries and making millions of black and Asian consumers to snub white magazines and invariably affecting the general appreciation of the products of white fashion designers and distributors of general beauty products and thereby causing slumps in sales in the U.S, Europe, Asia and other countries where they are sold to the public.
Racial discrimination destroys lives, careers, businesses, cultures and also destroys democracy and governance.
The more cosmopolitan we are in the fashion and beauty industries the more we will grow the creative industries and increase the public appreciation of our products and services so that non-white people will not see them as products made only for white people and snub them.
Let us address this problem, because it getting worse by the day and will not secure the future of the fashion and beauty industries and the society.
>

Models: (left to right) Elsa Benitez (Elite), Ling Tan (IMG), Jacquetta Wheeler (IMG) & Yasmin Warsame (IMG Paris).
Click the link below to go to...
Ebube Is Looking For My Trouble**I Don't Know Why She Hates Me--Anita Joseph Fumes
SHOCKER ! VARSITY UNDERGRAD,UCHE DIES-----
He frustrated me till I aborted the first pregnancy, now I'm pregnant again
15 REASONS To Know If Witches Follow You From Your Village
Eniola Badmus In 'Red-Hot' Romance With Davido?
NOLLYWOOD ACTRESSES AND PASTOR ITUA IGODALO FIGHT DIRTY INSIDE CHURCH
The British government set to withdraw support for Nigerian corrupt officials and children
Grammarian, Patrick Obahiagbon Speaks On Prof. Sofoluwe's Death