SONNIE BADU RELEASES MORE HIT SONGS.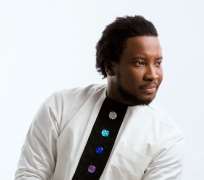 God's general (The worshipper) as he is widely known. International gospel artist Sonnie Badu has yet again released more hit songs for his music lovers, on a compilation album titled "When Worshippers Gather".
The album "When Worshippers Gather" was recorded in virginia, during one of Sonnie Badu's numerous visits to America. It's a vision that Sonnie badu had when he went to visit Bishop Kibby Otoo at Action Chapel Virginia for his annual worship conference. Bishop Kibby being a man of prayer shared in minister Sonnie's vision to put together a prayer and worship album. The power packed album was recorded by one of the best music producers ,Paul Avery who also features on the album and also featuring songs by Lady Elsie Otoo.
On this album Sonnie Badu released some of his new hit songs such as Amazing God, Son Of David, a powerful rendition of It Is Well and also included a very catchy reggae medley.
"I thank God for giving me these songs as l believe that the songs on this album will be a blessing to many" said Sonnie Badu.The gospel sensation who is currently working on his album has promised that he still has much more to give, so his fans and music lovers should expect more soon.