House, Senate Okay Maina's Dismissal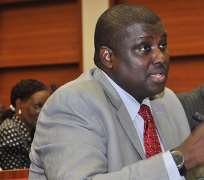 ....Decry corruption cover up by FG

ABUJA, February 19, (THEWILL) - The House of Representatives, Tuesday, concurred with an earlier resolution of the Senate, calling for the sack and prosecution of the wanted Chairman, Presidential Task Force on Pensions, Mr. Abdulrasheed Maina.
This came as the Speaker, House of Representatives, Aminu Waziri Tambuwal, warned against shielding corrupt officials and embarking on selective fight against corruption.
The House equally directed the Inspector General of Police, Abubakar Muhammed, to liaise with the Interpol and effect Maina's arrest without delay.
The concurrence was approved following the adoption of a motion sponsored by chairman, Rules and Business, Hon. Albert Sam-Tsokwa(PDP-Taraba).
In his lead argument, Sam-Tsokwa recalled that "the Senate of the Federal Republic of Nigeria on Wednesday, 13th February, 2013 passed Resolution (S/Res/033/02/13) requesting that Mr. Abdulrasheed Maina be dismissed from the Public Service of the Federal Republic of Nigeria immediately and be disengaged from all acts relating to public duty and that the Inspector General of Police appears before the Committee on Police Affairs to give reasons why he did not act on the warrant issued by the President of the Senate and that Mr. Abdulrasheed Maina should be investigated and prosecuted."
He therefore urged the House to be "conscious of the need to present a common front with respect to the institutional integrity of the National Assembly".
According to him, there was a "need to send a strong signal to the executive arm of the government on the resolve of the National Assembly to stop impunity and disregard for due process in the conduct of government business."
Only one lawmaker, Hon. Kingsley Chinda (PDP, Rivers), opposed the motion. Those who supported the motion included Hon. Femi Gbajabiamilah (ACN Lagos), Samson Osagie (ACN Edo), Asita Honourable (PDP, Delta), Fort Dike (PDP, Anambra), Abike Dabiri-Erewa (ACN Lagos), Friday Itulah (PDP, Edo),
In his remarks after the motion was adopted, Tambuwal warned top government functionaries against protecting corrupt public officials.
"We cannot be fighting corruption in isolation through selective processes. We cannot pretend to be fighting corruption, yet we are condoning corrupt officials in government. Those of us in high places should not be seen as condoning corruption," he said.
He also tasked the IGP to collaborate with the Interpol to apprehend Maina ."I am calling on the IGP to use every available means in ensuring that Maina is arrested and the resolution of the House and the Senate is duly complied with."
It will be recalled that the House Pension Committee led by Hon. Ibrahim Bawa Kamba had in a memo addressed to the Head of Service (HoS) of the federation criticised the Senate report, calling on President Jonathan to provide cover for the Chairman of Presidential Task Team on Pension Reform.