Cashless Economy: Delta Speaker Solicits Legislation Against Internet Financial Crimes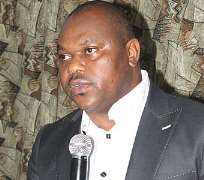 SAN FRANCISCO, February 19, (THEWILL) - The Speaker of the Delta State House of Assembly Rt. Hon (Engr.) Victor Ochei FNSE, has urged the National Assembly to urgently enact a stiff legislation, as a means of taming the incessant information technology propelled financial crimes, if the proposed Central Bank of Nigeria's cashless economy project will see the light of day.
He made this observation while delivering a lecture titled; Cashless Economy and the Nigerian Banking System during the 2012 stanza of the CBN - Delta State Bankers' Clearing House Award Ceremony under the auspices of the Asaba branch of the Central Bank of Nigeria held recently in Asaba.
Hon Ochei posited there could not be a more auspicious time for such legislation than now, considering the perception of Nigeria being tagged the global hub of internet scams, which will invariably create obstacles to the effective execution of the project.
He also admonished the Central Bank of Nigeria on the need to relax its over-bearing regulatory stance on the banking sector, bearing in mind that as a competitive market, charges should be market driven, adding that "a situation whereby the CBN set what the interests should be does not augur well for the sector.''
The legislator who argued that though the ideals for embarking on the cashless economy programme appear laudable, amongst which is to develop and modernise Nigeria's payment system in line the Vision 2020 scheme, factors such as the paucity of requisite infrastructure,
enlightenment and information technology (ICT) literacy level may hinder its successful take-off and effective implementation.
Hon Ochei also said that the success of the scheme will be premised on establishing more branches in the rural areas, improved identification and opening accounts policies, introduction of mobile banking, investing in human capital development as well as in information technology.
In the same vein, he called on banks to imbibe high ethical standards in its operations, as it could be the only veritable means of cultivating customers' confidence, which had been shaken by fraudulent insider's abuse adding that, increasing functional Point of Sales terminals will impact positively on the scheme.