FROM OBY EZEKWESILI TO NASIR EL-RUFAI; THE SAME 'TORO NKWOCHA'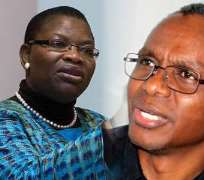 First, I must confess to some nervousness! Please, how on earth did some otherwise well-educated Nigerians manage to conclude, after reading my article titled " Oby Ezekwesili Again; Another Baseless Grandstanding", that it was written in support of President Goodluck Jonathan? Some friends have called to report some reactions in certain circles, and such reactions left off all conclusions in this wide universe and jumped to the only nasty one available; that I wrote in support of President Jonathan.
Did it not occur to such folks that I remained fidel to my opening sentence? That sentence: "Could the inner circle members of former President Olusegun Obasanjo civilian administration actually be under the delusion that they gave Nigeria a "Grand Epoch"? Really could the national misfortune that was the Obasanjo administration - 1999 to 2007 - by any means be mistaken for a Golden Age?"
From that very clear beginning to the very end, my concern was simply about the Obasanjo administration and the revisionism its key players are diabolically engaged in now.
This is disappointing. Now, I'm afraid that continuing on the part two of that article, as I had promised, may strengthen some persons in their hastily reached conclusion. So? Well the result is that I'll cut Oby Ezekwesili some flake here and now. Otherwise, I wanted to tell her and the world that her one little secret is not all that a secret. Whenever she has written about her past, she has never mentioned that she was a "big mama" in a financial outfit – in the age of the wonder banks – and please be rest assured that I mentioned the wonder banks for a very genuine reason. The issues concerning that banking experience of hers will be left for now, so that none will accuse me of digging up that dirt just because Mrs. Ezekwesili had the temerity to criticise Jonathan's administration. My stand, simply stated or restated really is this: the Obasanjo-administration was no "grande epoch or golden era" and so their claims about the goodness of an administration that was bad from the beginning to the end should not be allowed to go unchallenged. She could criticise Jonathan administration and the man heading it forever and I won't be bothered. I'll get bothered when she will begin to turn history upside down or begin to hoodwink the public by making stupid claims.
Am I unnecessarily hard on Obasanjo and administration? No, is the answer. A more credible judge-participant in that administration, Gen. T. Y. Danjuma gave his verdict as far back as 2003. He said, on the final Federal Executive Council meeting right on the grounds of Aso Rock, just after the outgoing Ministers had taken a final picture with Obasanjo: "We have failed. We failed the nation. We failed to grow the economy and we failed to grow jobs". I was present when he said it. Or did Obasanjo grow the economy or did he grow jobs? Not even Ezekwesili, El-Rufai or Obasanjo himself has made such claims.
It is on record that Obasanjo's first term was better than his second term; that final term was wasted in a fight against his Vice-President and in the betrayal of himself – through the tenure elongation gambit. That betrayal was also a fight against Nigerian democracy. Did Obasanjo actually attempt a coup plot against the Nigerian constitution? Have Nigerians understood the third term tenure elongation gambit in all its ramifications? Well, I was the first journalist to warn Nigerians that a tenure elongation war was afoot; that was in the May 28, 2004 edition of Daily Independent. So, I will say that I have followed that sordid aspect of Nigerian contemporary history before most people woke up to that terrible fact.
With that behind us, and my squaring up to the real Mrs. Ezekwesili postponed to another day (and that includes postponing the issue of who owns First 40 Hotel in Wuse Two, Abuja) may we turn our attention to Oby Ezekwesili's very good brother and friend: Mr. Nasir el-Rufai and the many unsubstantiated claims he made in his book; "The Accidental Civil Servant. (But first, may we undertake a definition of some salient terms: "Toro nkwocha" means worn out three-penny coin in Igbo language; totally useless to anyone.)
In the book, El-Rufai would just drop a statement as pure veritas instead of stating what it actually is; just a mere hunch. An example is the statement that many persons signed a document but later caved in under pressure and claimed they never gave the go-ahead for their names to be mentioned in that document - asking Yar'Adua to resign. But himself, the resolute lion stood his ground. One of those whose names were listed without their permission and who later said so, has spoken for himself in Nigeria's internet discussion sites that he never granted any the permission to use his name in such ventures. He is Dr. Chidi Odunkalu. But that is El-Rufai, the real one for you; he plays only by his own rules, defines his own truth, and expects everyone to follow him. Any who fails to fall in line is less than human.
In that piece, Odunkalu wondered about the kind of help the Abuja Courts rendered El-Rufai, (as El-Rufai claimed in the book). Yes, it is sad that a man as greatly informed as El-Rufai and a man who has been mouthing his great expectations for a change in Nigeria, did not see the danger in undermining the judiciary. That clearly showed that El-Rufai cared and still cares about Nasir el-Rufai and nothing else. Related to this is the lesson to be learned from El-Rufai's showing us how Nuhu Ribadu "arrested Local Government Chairmen" from Katsina state when he opened up political persecution against the then Gov.Umaru Yar'Adua - just to stop him from contesting the 2007 election to be President. How many other such accusations did Ribadu make against others - in the name of nothing but politics? Put differently, was a real anti-corruption fight on, or was it just all a ruse?
And what would anyone make of Ribadu's statement as El-Rufai reported in the book: that El-Rufai and none other was his choice for President and he went on to use (misuse) state powers in trying to ensure that only his own choice would emerge President? And such a despot contested to be president in Nigeria, and he is still nursing that ambition! So, if Ribadu found himself in Obasanjo's shoes in 2007, would there have been an election at all? El-Rufai too spent almost half of the book writing about his efforts in getting Obasanjo to anoint a successor? Why did it never occur to him that nothing in the constitution granted Obasanjo such powers?
That El-Rufai wanted someone who would continue with the administration's so called "reforms" is neither here nor there. The point is that el-Rufai and his gang did not KNOW that Nigeria was not a one-party state and that anybody outside their circle (close Obasanjo aides that were in the so-called Economic Team) had the constitutional right to become Nigeria's President. El-Rufai's confession showed he had the mind-set of a coup plotter. He never argued that anybody who was able to win the people's votes should be allowed to be President. El-Rufai, as bold as he painted himself, never counseled Obasanjo to stop turning the PDP into an Obasanjo party - a one man show or to open up the political space for all Nigerians. El-Rufai did not tell us about the nasty things he did during a party election in FCT when he was the boss in territory's administration.
Hey, El-Rufai's fingers suddenly grew too weak to strike the key boards when it was time for him to write about his greatest failure- the Pentascope/NITEL (privatization) deal. That was a war against Nigeria. He also papered over his allocation of plots of land in Abuja to members of his immediate family. He did not even address the terrible corruption that not only continued during his watch at Abuja Federal Capital Territory, he even swept aside the checks and balances that were in place there. While writing about the Bellview plane crash, he said the LAST PERMANENT SECRETARY at the FCT perished too in that crash. Why did El-Rufai function as a minister (to all intents and purposes) but without the services of a Perm Sec? So he had no checks whatsoever? Who was the chief accounting officer at the FCT then? It's a surprise that El-Rufai failed to mention that the late PERM SEC had the temerity to oppose things he thought El-Rufai did corruptly and even wrote a petition against El-Rufai. For that insubordination, the Perm Sec was removed. But if El-Rufai wrote that petition and was punished as the Perm Sec was, the world would never have been allowed to forget it.
And El-Rufai should be told that he was not the champion that killed Obasanjo's Third Term tenure elongation bid. Hey, Gen T.Y Danjuma was in that fight, so was IBB, so was Atiku Abubakar, so was Gen Mohammed Gusau. They spent their money too on that project. And there were many of the so-called Obasanjo boys who played doubled roles. Peter Odili was among this group. Actually, that El-Rufai did not know that Third Term would die on the day it did shows that he was not fully in that fight despite his wild claims. The Senate leadership knew it would die that day. Senate President Ken Nnamani read an unusual speech that day before proceedings began. It was a jubilant speech prepared for history's sake. Many Human Rights activists were invited to be in the gallery that day. They were not invited that day for nothing!
Written By Tony Eluemunor

Disclaimer:

"The views/contents expressed in this article are the sole responsibility of

thewillnigeria.com

and do not necessarily reflect those of The Nigerian Voice. The Nigerian Voice will not be responsible or liable for any inaccurate or incorrect statements contained in this article."
Articles by thewillnigeria.com