Senate Mourns Slain Health Workers, Sends Condolence To North Korea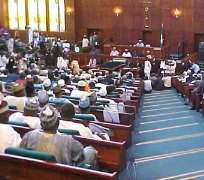 ABUJA, February 14, (THEWILL) - A moody Senate-in-plenary on Wednesday observed a minute silence in honour of health workers killed by yet-to-be identified gunmen in Kano and Bornu States.
The Senators expressed great concerns about the "terrible image" of the country in the international community on Nigeria's fight against rising terrorism vis-à-vis the country's effort to eradicate polio.
The Senators however resolved to send a condolence message to the people and government of North Korea as well as to the affected states in Nigeria.
It would be recalled that three North Korean doctors were killed last week in Potiskum, a town in Yobe State. While two of the doctors had their throats slit, the third one was beheaded by the attackers.
The killings came shortly after gunmen shot dead at least nine female polio vaccinators last Friday in Kano. A previous attack on a polio clinic in October in the city killed two police officers on guard there and highlighted the continuing suspicion some in the north have regarding polio vaccines.
A 2003 polio outbreak in Nigeria's north that spread across the world started in part from Islamic leaders claiming the vaccine would make young Muslim girls impotent — rumours that persist today in a country that is one of three in the world where the virus remains endemic (the others are Pakistan and Afghanistan).
Debating the motion sponsored by Senator Ifeanyi Okowa (Delta/PDP) and 12 other Senators, the Deputy Senate President, Ike Ekweremadu (Enugu/PDP), decried that the current 350,000 personnel of the Nigeria Police Force was grossly inadequate to police a country populated by over 160 million people.
Ekweremadu urged the Federal Government not to be intimidated in its fight against terrorism and with the recent attack on health workers.
"There is an increasing incidence of criminality and increasing number of criminals in our country without a corresponding increase in the number and sophistication of our security personnel. A situation where we have 350,000 policemen in a country of over 160 million people is grossly inadequate and that is why criminals are having a field day.
"It is even worse when you realise that people are committing crime and are never found. That sort of situation, of course, will embolden the criminals. So we need to do whatever is necessary to increase both the number and the sophistication of our police and other security personnel in Nigeria if we are going to roll back the incidence of criminality in Nigeria.
"But what happened in Kano and Borno is completely unacceptable. It is diminishing of us as human beings and members of civilised society. When you see these victims of polio in the 21st century and somebody is preaching and trying to halt any effort to ensure that the next generation is not part of this disease is very shocking.
"The government should not be intimidated, we should not be intimidated and nobody should be intimidated in the effort to eradicate polio in Nigeria. I find it very embarrassing that we still have polio in Nigeria.
"Therefore, there is need for all of us to do all we need to do, including our religious leaders, to help to enlighten the public on the need to eradicate this disease and then to provide security for those who are involved in the effort to eradicate this disease," he said.
In his contribution, Senator Barnabas Gemade (Benue/PDP) called on the Nigeria Immigration Service (NIS) to ensure tighter border control to curb the influx of foreign "intruders" from neighbouring countries.
"I think we must begin to find a way to ensure that our immigration service rises up to the challenges in our border with a view to addressing the influx of people that have nothing doing in our country but who find themselves here because of the porous nature of our border," he said.
Senator Mohammed Saleh Abdulmumuni (Kaduna/CPC) called on Nigeria's health ministry to work with credible and respected Muslim clerics to reach out to northern Muslim leaders, Mullahs and communities to correct suspicion some in the north have regarding polio vaccines.