NDLEA AND GOV OBI WAR AGAINST FAKE DRUGS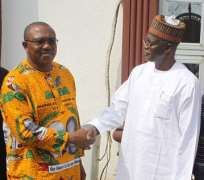 The State Government has intensified war against illicit drug business. Governor Peter Obi declared this after a meeting with the Chairman and Chief Executive of the National Drug Law Enforcement Agency – NDLEA, Alhaji Ahmadu Gaide at the Governor's Lodge. Governor Obi said no efforts will be spared in ensuring that trade on illicit drugs is eradicated across the State.
He regretted that while his administration is pursuing comprehensive health programme to uplift the lives of the people, some individuals in their blind quest for material wealth are exposing innocent citizens to health hazards. He assured that government will engage on sustained onslaught against those involved in the illicit business as it is doing with other crimes.
He explained that the State will embark on mass sensitization and will make public names of all individuals involved.
Earlier, the NDLEA Chairman, Alhaji Gaide said the visit was to solicit the assistance of the State Government in the fight against hard drugs following the discovering of methamphetamine laboratory in a dwelling house at Nanka, Orumba North Local Government Area. He said he
He explained that exposure to the drug could cause cancer deformity and other health hazards and restated the determination of the Agency to protect the country from hard drug production or being a transit route for illicit drug distribution, noting that hard drug is often linked to kidnap, armed robbery and other violent crimes.
The NDLEA boss experienced confidence that collaboration with the State government will help create necessary awareness that will save the people from the sad consequences of hard drugs. He said that Knowing how highly Gov. Obi cherished values and the welfare of his people, that he was confident that he would continue to promote those things that would be of benefit to his people.