Day Helen Paul Had Fun At Lagos Beach [Photos]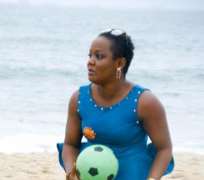 Helen Paul is definitely one of the few female humour merchants ruling the comedy industry in Nigeria. In a male dominated game, many would have imagined that Helen might be struggling to climb to fame by now but that is not the case for her.
Helen climbed to be a top celeb not as a comedienne but also as both a radio and TV presenter.
Few weeks ago, the talented wife took a time out of her busy schedule to have fun at the Eleguishi Beach in Lagos. This was well captured by celebrity UK-based photographer, Daniel Sync.
Here are few of the pictures.