Stock Index Futures Point To Slightly Higher Wall Street Open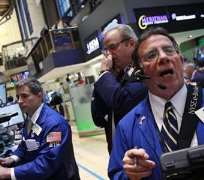 Stock index futures pointed to a slightly higher open on Wall Street on Wednesday, with futures for the S&P 500 up 0.1 percent at 5.06 a.m EST.
* Dow Jones futures added 0.3 percent while contracts on the Nasdaq 100 futures rose 0.2 percent.
* Visa (V.N), the world's largest credit and debit card network, is expected to report earnings per share of $1.79 for its first quarter, up 1.49 from a year earlier. Smaller rival MasterCard (MA.N) recently reported better-than-expected results but said its revenue growth could decelerate in the first half of the year due to economic uncertainty.
* Media groups Time Warner Inc. and News Corp. (NWSA.O) were also among U.S. companies due to report results.
* Liberty Global (LBTYA.O) won't change Virgin Media's (VMED.O) (VMED.L) strategy on network roll-out and content if its deal to buy the British cable group goes through, Liberty's chief executive said on Wednesday.
* Walt Disney Co (DIS.N) beat estimates in quarterly adjusted earnings and said it expects the next few quarters to be better on a stronger lineup of movies and rising attendance at its theme parks. The results helped lift the media giant's shares 1.7 percent in after-hours trading.
* Take-Two Interactive Software Inc (TTWO.O) reported higher revenue and earnings in the third quarter that blew past Wall Street expectations, as the video games publisher gears up to launch a new title from its mega-blockbuster "Grand Theft Auto" series. Take-Two shares were up about 7 percent in after-hours trading after closing at $12.66 on the Nasdaq.
* Online gaming firm Zynga Inc (ZNGA.O) reported an unexpected fourth-quarter profit after embracing steep cost cuts and shifting forward deferred revenue. The results were a relief to investors who had feared the company might be in free fall and Zynga's shares jumped 7 percent to $2.93 in after-hours trade.
* Nasdaq OMX Group Inc (NDAQ.O) is in preliminary talks with U.S. securities regulators over a possible settlement for the glitch-ridden stock market debut of social networking site Facebook Inc (FB.O), the Wall Street Journal reported on Tuesday, citing people with knowledge of the discussions.
* Online photo-sharing service provider Shutterfly Inc's (SFLY.O) results beat analysts' estimates in the traditionally strong fourth quarter on higher demand during the holiday season, particularly in its enterprise unit. The company's shares rose 13 percent in after-hours trading.
* European stocks were a touch higher on Wednesday, with shares in the world's largest steelmaker, ArcelorMittal (ISPA.AS), rising after its upbeat outlook reassured investors.
* Japan's Nikkei average surged 3.8 percent to its highest close since October 2008 after the yen fell sharply on bets the early exit of the central bank governor would open the way for a successor who pursues aggressive monetary easing.
* The Dow Jones industrial average .DJI closed 99.22 points, or 0.71 percent, higher at 13,979.30 on Tuesday. The Standard & Poor's 500 Index .SPX was up 15.58 points, or 1.04 percent, at 1,511.29. The Nasdaq Composite Index .IXIC was up 40.41 points, or 1.29 percent, at 3,171.58.
REUTERS