Oyo Governorship: Court Dismisses Suit Challenging Ajimobi's Victory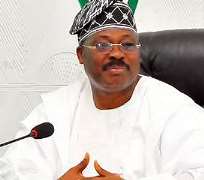 SAN FRANCISCO, February 05, (THEWILL) - A Federal High Court in Ibadan, the Oyo State capital, Tuesday, struck out a suit challenging the nomination and eventual victory of the Oyo state governor, Abiola Ajimobi, in both the gubernatorial primary of the Action Congress of Nigeria (ACN) and the governorship election held last April.
Presiding judge of the court, Justice Abimbola Adejumo, dismissed the suit brought by Professor Oluwole Akinboade, a contender in the ACN gubernatorial primary which eventually produced Ajimobi as the party's candidate.
Akinboade had dragged the governor, ACN, and the Independent National Electoral Commission (INEC) to the court over the emergence of Ajimobi as governor .
In the suit, the professor prayed the court to hold that Ajimobi was not duly nominated by the party for the governorship election of 2011 as he urged the court to order for the nullification of Ajimobi's nomination among others.
But the trial judge, Justice Adejumo in the judgment declined jurisdiction, pointing out that that section 87 sub section 1, and 4, of the Electoral Act 2010 as amended gave the political parties in Nigeria the power to pick their candidates to contest different elective positions while section 87 sub section 9 and 10 of the same Electoral Act as amended outlawed the court to adjudicate on election matters.
The trial judge declared that once the plaintiff in the case admitted that he did not participate in the primary as governorship aspirant of the ACN because the said primary did not hold, he lacked jurisdiction to institute the case under the law.
Justice Adejumo noted that the plaintiff position was tantamount to a approbating and reprobating because in evidence, he admitted that all the aspirants including himself had agreed that the governorship candidate for the Oyo state in the 2011 election shall be picked by consensus but only decided to file the litigation after the decision worked against him.
The court ruled that the entire position of the plaintiff in the case according to Section 87 of the 2010 Electoral Act as amended was unconstitutional, unjustifiable and lack merit and thereby dismissed.
Counsel to the plaintiff, Abiodun Amole. ruled out the possibility of appealing the judgment as he maintained that the plaintiff will allow the governor to concentrate more on his mandate.