Barca, Real Warm Up For Showdown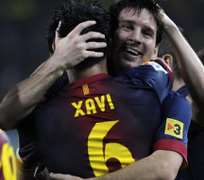 Set to meet next week in the Copa del Rey semifinals, Barcelona and Real Madrid must be careful not to be caught off guard on Sunday when they host relatively lightweight opponents in the Spanish league.
Barcelona, who lost their first league match of the season last week, have the added threat of complacency against struggling Osasuna with the league title race apparently in hand.
Madrid have bigger problems against Getafe with goalkeeper Iker Casillas the latest member of their squad to be sidelined after the Spain international broke his hand during Wednesday's cup game at Valencia.
Second-place Atletico Madrid will be hoping Barcelona are indeed looking ahead to their "clasico" when they visit Athletic Bilbao. Atletico is eight points behind the leaders.
While most of the talk by his players after Barcelona's 4-2 win at Malaga in the Copa del Rey on Thursday was about the upcoming match against Madrid, Barcelona assistant coach Jordi Roura tried to keep his team focused on the task at hand.
"We have an important game against Osasuna on Sunday," he said. "I prefer not to talk about Real Madrid."
Barcelona are unbeaten at home this season and broke a two-game winless skid by emerging victorious at Malaga to advance in the Copa del Rey.
Lionel Messi continues to rack up goals. He hit the 40th-goal mark for the fourth straight season at Malaga when he scored on a 15th consecutive start to help get the victory.
Sunday's game appears to be the perfect chance for Barcelona to rest some players. Striker David Villa is back fit and his absence from the starting lineup would only fuel rumors that his days at Camp Nou may be numbered.
Osasuna are in the relegation zone after only one away win this season in nine tries. The Pamplona-based side have four victories in 34 all-time league games at Camp Nou, and have only scored six away goals this season.
"We will work hard for the win, but we all know that the situation is complicated," Osasuna forward Juan "Nino" Martinez said. "We aren't going to give anything to Barcelona, we will always do our best. Even a point would give us a boost."
Madrid appeared to have found their stride with big wins over Valencia during the past two weeks. But Casillas' hand injury has put the idea of midseason resurgence in serious doubt.
Madrid's goal will be defended by Adan Garrido, who has had his ups and downs sharing the starting job with Casillas over recent weeks in a highly criticised move by coach Jose Mourinho.
Getafe came from behind to beat Madrid 2-1 in August, but they have slid to 11th place after not winning once in their last six games.
"If my team plays at its best, we can do something," Getafe coach Luis Garcia said. "If not, no way. Madrid is always Madrid, and at home, even more so. Now I see Madrid playing with more fire than last year."
Atletico may still be missing top scorer Radamel Falcao due to a leg injury for their visit to San Mames to take on a Bilbao team in disarray.
The Basques haven't won in four straight games and have the league's worst defense with 40 goals conceded in 20 games.
To make matters worse, local star Fernando Llorente signed with Italian club Juventus on Thursday and will leave his boyhood club at the end of the season.
Sevilla host Granada on Monday.
SUPERSPORT