OVATION MAGAZINE'S SANDRA AJAYI CELEBRATES BIRTHDAY WITH MOTHERLESS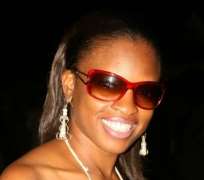 General Manager of Ovation International Magazine, Sandra Ajayi added a year penultimate Thursday and to celebrate that special day in her life she dragged friends, family and well-wishers to the Heart of Gold Children's Hospices at Masha Road, Surulere, Lagos on Saturday 9th of January.
The radiant and very friendly personality was at one of this motherless babies' home in Lagos to support these abandoned children in the society. Though, Sandra's day was 7th, the Saturday was chosen so as to have her friends who are working class people like her to felicitate with her on her day.
One of the interesting aspects of the event is that all the gifts and cash given to the always-smiling Sandra by her well wishers all went into the purse of the hospice a gesture made to give back to the society. The event was well attended with lots of comic attractions added. Congrats gal! How old are you now?
Story by Alonge Michael