I'VE A MAN IN MAN LIFE…I'M NOT TALKING ABOUT MARRIAGE-Benita Nzeribe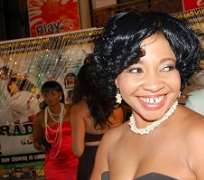 Gorgeous actress, Benita Nzeribe reacting to the story going round the city that there is death sentence on some actors in Nollywood has said there is nothing like that. "The Angel of death not at work in Nollywood. I don't know why people get too pessimistic about such things. People are saying that a lot of people in Nollywood are dying. A lot of bankers are dying too. It's not narrowed down to Nollywood alone. It is the way God has willed it; If God did not allow it, it wouldn't happen," she reacted.
You may wonder why the pretty actress is still single despite all the men in the world, she said though she has a man in her life but, at the moment, she doesn't wasn't to talk about her marital status or when she hopes to tie the nuptial knot. Her reason? Best known to her, though, some of her friends said that the man in her life has warned that she should maintain total silence about their affair until he finally engages her, guess the pretty sultry actress loves to keep it like that.