Mali Ignited By Creators Of Cold Blooded Religious Fanatics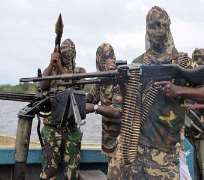 This is an opportunity to thank President Ebele for living up to our reputation as peace keepers. We do not do it because of gain as a Country. Appreciation must also be extended to the Sultan of Sokoto for his courage to stand up and tell the North of monsters we created for ourselves in Nigeria.
He has been threatened before but also vindicated by vicious attack on about 80 year old Emir of Kano. Solutions is in our head not in our hearts or stars.
African has turned into battle ground for testing religious and political ideologies. The wars between crusaders and jihad have now shifted to Africa and Mali is the latest in the eye of the storm. The two religions that were supposed to bring civilization to Africa, has brought nothing else but destruction of the greatest Empires of Ghana, Mali and Songhai. They came as religious saviors but in fact political and economic conquerors.
Indeed, other countries gain a great deal after peace keeping missions in terms of trade and contracts to buy their goods and services. Nigeria has a history of peace keeping missions in the world. Helping to drive out the Islamic jihadists and Christian crusaders out of Africa is a noble curse. We pray for all, especially our ladies in combating fire on our door step against jihadists. Religious fanatics see us as baits but we see Nigerians, Malians, Ghanaians or Zimbabweans. Distractors use us to disenfranchise Africa in political and religious wars.
When Kofi Annan was going to be nominated as United Nation Secretary, France wanted a Francophone African. What an insult! In Nigeria there are "holy" holidays for some "saints" that have never done any good in Africa whose name we cannot even repeat without tripping on each other. But Aminu Kano, Herbert Macauley, Ernest Okoli, Ajayi Crowther, Nnamdi Azikiwe, Awolowo or Ahmadu Bello deserved no holiday.
However, when you disrespect your own and lounged for everything exotic and foreign, you also pay the price. Of all the continents, Africa is the only place where our official religions in the eyes of our individual ruling governments are foreign. If they want to fight for dominance, let them confine themselves to their god given lands instead of jihads and crusades all over Africa.
The only stable countries in the Arab world are those that were able to suppress or check religious jihadists and prevent theocracy by making sure kingship or monarchism, autocracy, oligarchy or nobility rules but they are willing to sponsor jihad outside. These religious extremists usually preach democracy because of their numbers when out of power, only to display intolerance to other religions and political opponents after elections.
This is why the Eastern and Western powers are totally confused and are hypocritical in their support for democratic or communist governments. Either by an act of omission or commission this "confusion" has extended to Mali, Libya, Syria, Lebanon or Egypt as Saudi Arabia may be next. This is exactly what Africa cannot afford as a victim of the past that have kept both our politics and economy in shambles. Our enemies are within. It sank to a new low before attacks on any Emir or Sultan.
We wish they could just leave us alone. Unfortunately capitalism or communism, no matter how well intentioned has proved unworkable in all African democracy especially where the real original people claim or invest in diverse political and religious origins outside their continent just to be relevant to the outside world.
Abraham religions teach that once you confess your sins, they are wiped out and you can begin again. So we have Africans that build Mosques and Churches inside their mansions where cold blooded killers, burglars, looters, immoralities strive and pray before heading out to commit more sins since yesterday's blood stains were forgiven.
They come out in the day as men and women of God only to turn into vampires at night when duty calls. These are marauders desecrating weak governments all over the world and preying on their citizens by establishing puppets to rule and deliver their booties to foreign countries they yearn and love to be like. So they are called Christians and Muslims.
Any religion that promised to forgive and forget each time you sin and pray, would turn most evil minded people into cold blooded animals. If Africans have to make a choice of religion all over again, they will stick to their own AIYELALA not even adopt Nemeses, the Greek god closest to their own. Coincidentally both Aiyelala and Nemesis are daughters of what unified many Africans on one hand and Europeans on the other hand.
How would Aiyelala and Nemesis judge the children of Africa and Europe? Mired in all of these are Africans that have disrespected the peaceful coexistence of their religions and are killing one another as unbelievers of foreign religions. It is Mali's turn.
Aiyelala or Orulala is one of the common deities like Oloku that cuts across West Africans denying they relate to one another but swear by Aiyelala anyway. It is a just god or deity that punishes by retribution the same way Greek god, Nemesis catch up with evil doers. The notion that you can pray for forgiveness and go back to commit more atrocities is completely eliminated. Throw ashes and ashes will follow you.
While Christians have been able to conquer religion under the doctrine of give to God what is onto God and Caesar what is onto him, religious fanatic still have a good hold on their politicians, so much that they confuse their children with theories of evolution and creationism. The other fanatics are religious followers of Mohammed that have splinter sects and want the control of governments according to the teaching of each sect.
Why were Nigerian troops deployed to Mali dancing kokoma before leaving? Not sure if they were happy like others trying to get out of Nigeria. After all, Nigerians are willing to die crossing the desert just to get a piece of decent life that eluded them at home, so we cannot blame the soldiers dancing for a noble cause. Do not treat them like those soldiers whose death sentence were commuted to years for demanding their peace keeping money.
Disclaimer:

"The views/contents expressed in this article are the sole responsibility of

Farouk Martins Aresa

and do not necessarily reflect those of The Nigerian Voice. The Nigerian Voice will not be responsible or liable for any inaccurate or incorrect statements contained in this article."
Articles by Farouk Martins Aresa