Deputy Speaker Will Not Be Distracted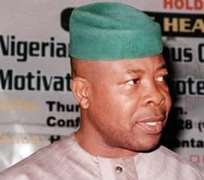 The attention of the Deputy Speaker of the House of Representatives, His Excellency, Rt. Hon. Emeka Ihedioha, CON, has been drawn to a statement circulated by APGA, Imo State, alleging that he, in collusion with others, is behind the arrest, detention and interrogation of officials of the Imo State Government by the EFCC and an alleged plot to impeach the state governor.
The Deputy Speaker finds the allegations false, untenable and a disingenuous attempt to distract him from his enormous national duties. As a consummate legislator, tested leader, and illustrious Imo son with a towering reputation built through hard work and dedication to service, he is busy providing leadership at the national level and as such should not be drawn into the prism of Imo State politics.
It is noteworthy that reports on the matter identified members of ALGON, Imo State Chapter as authors of the petition upon which the anti-graft agency acted. And so linking the Deputy Speaker to the matter is a puerile attempt to needlessly drag him into the fray, as he neither supervises nor in a position to give directives to the EFCC in the performance of their duties.
Finally, His Excellency, the Deputy Speaker reiterates that he will not be distracted from his national legislative duties and pursuing the cause of good governance in Nigeria including Imo State which is a part of the country. He is sufficiently busy enough to be involved in APGA's spurious speculations as can be seen in several human capacity developments and infrastructure projects he has attracted to Imo State.
Chibuike Onyeukwu
Personal Assistant (Media) to the Deputy Speaker